Powertrain Electric Air Track Pump 600w with Deflate Mode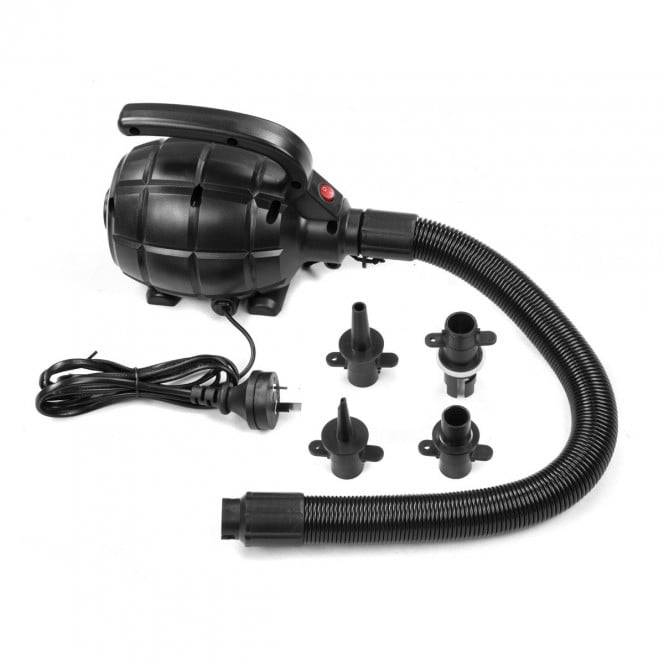 Air Track electric pump suits 'iSUP' products
This 240V / 600w electric air pump is perfect for inflating air tracks, gymnastics mats, air beds, pool floats, stand-up-paddleboards, and other inflatable items.
It quickly inflates and deflates large-volume inflatables so you can train, relax, or play in minutes! The 4 valve adaptors allow you to inflate everything from small toys and balls to rafts, air spots, and more.
Air Pump multiple fittings
This pump is supplied with 4 different fittings so it will be suitable for just about any inflatable product.
Standard iSPU fitting included One of the 4 fittings supplied is a standard 'iSUP' (inflatable Stand-Up-Paddleboard) fitting which is the same fitting used on Air Tracks, Bumper-Balls and many more large inflatable products
Reversible for deflating This pump includes a suction port which you can use to deflate. Simply connect the hose to the suction port and your inflatable and switch it on! No more time wasted slowly deflating and rolling your inflatable, this pump will do it in a few minutes leaving you with a flat item you can easily fold away if needed.

Air Track electric pump Features:

Includes 4 valve adaptors
Mains powered
1.5m cord
AC: 240 volt
Power: 600W
Flexible hose


Air Track electric pump Contents:

1 x 240v Electric Pump
1 x Flexible Hose
4 x Valve Connectors
sku: ifp-xbo
See Terms & Privacy for 30 day returns information.