Choosing your first Air Track - an introduction to tumbling mats
So you've decided that an Air Track is the most suitable option for you, which one will you buy? Well, the answer to this question has many aspects, like: How much space do you have available? How old are the users of the Air Track? What activities will you be using the Air Track for?
What type of Air Track do I need?
There are several different types which can be broken down into three general categories: round mats (Air Spots), square mats (Air Blocks), and rectangular mats (Air Tracks).
These are the most common types of inflatable mats available. The different shapes will help you identify which one is best suited for your needs depending on where it's going and who will be using them. Factors to consider are the age and ability of the user and the space you have available. (see below for a guide)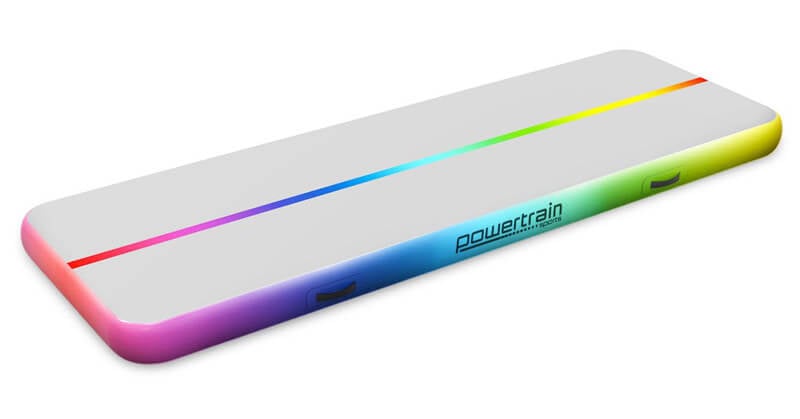 How thick should an Air Track mat be?
Is a 10cm or 20cm AirTrack better?
In Australia, Air tracks for home use come in two heights (thicknesses), 10cm and 20cm. Because they are inflatable, Air Tracks provide impact protection so there's support for safe landing and reduced chance of injury or jarring in case of a bad landing or fall.
Air track mats are thick enough to withstand great force, with mats usually 10-20cm thick. A thicker mat provides a safe landing for gymnastic and aerobic exercises. Inflatable mats will withstand just about anything you can throw (or bounce) at them within the scope of reasonable use, while the thick PVC material makes them durable enough for use in most indoor and outdoor settings.
The 10cm mats are a more affordable option but have a limited use and may not be the best choice if you plan to refine your skills from beginner to intermediate and advanced over the next few years.
The thinner 10cm mats provide less bounce which can limit the activities you can safely perform on them and they are not as suitable for low inflation pressure training required for beginners.
All Powertrain mats are 20cm thick which means more rebound bounce on tumbling passes, better protection, and enhanced durability and strength, especially when using the mats at a lower pressure for beginners.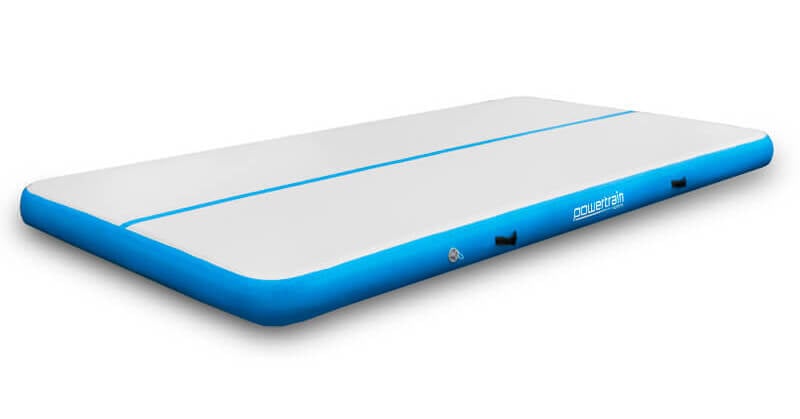 What size Air Track should I buy?
Air Tracks have a multipurpose surface that can be used for many different gym activities. It's often referred to as an "airtrack", with spots and blocks starting at around 1m in size.
The "Air Spot" and "Air Block" are small inflatable mats with a round or square shape. They are often used as a jumping-off point to help users start tumbling, giving them more height from the ground or Air track. The air spots and air blocks can be used in conjunction with air track as a springboard.
The Air-Spot and Air-Blocks also works well in conjunction with a conventional mat at your local gym - just make sure not too bump into any equipment while practicing acrobatic moves.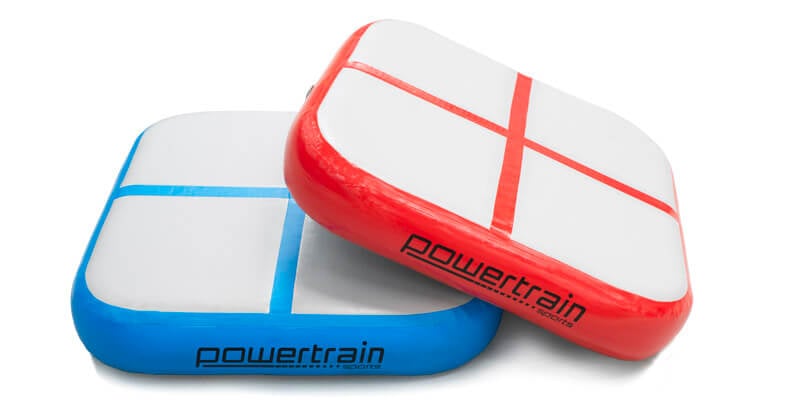 The most common mat sizing
The most common inflatable mats for home use are one metre wide and are available in lengths from three metres to eight metres. This size mat is great for most tumble training and cheerleading practice, with the longer mats being the better choice if you have the space.
Two metre wide air tracks are perfect for all sorts of training activities and routines. These two metre wide super large mats provide better space to train, and are the ideal choice if you have enough room.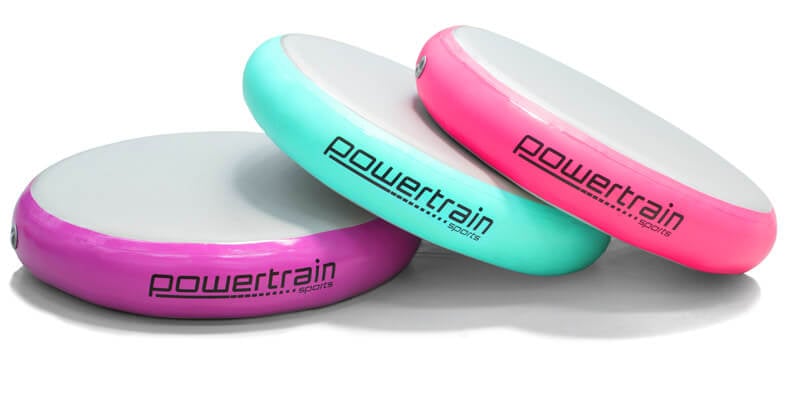 Do I have enough room for tumble training?
To use an Air Track safely you should have enough space at the start and end to allow for run-up and landing off the end of the track. You should also allow room at the sides of the mat. See the below chart for the recommended minimum space required.
How much room will I need for my air track?

| Air Track size | Minimum recommeded space |
| --- | --- |
| 1m x 1m x 20cm | 3m x 3m |
| 3m x 1m x 20cm | 6m x 3m |
| 4m x 1m x 20cm | 7m x 3m |
| 5m x 1m x 20cm | 8m x 3m |
| 6m x 1m x 20cm | 9m x 3m |
| 7m x 1m x 20cm | 10m x 3m |
| 8m x 1m x 20cm | 11m x 3m |
| 4m x 2m x 20cm | 7m x 4m |
| 6m x 2m x 20cm | 9m x 4m |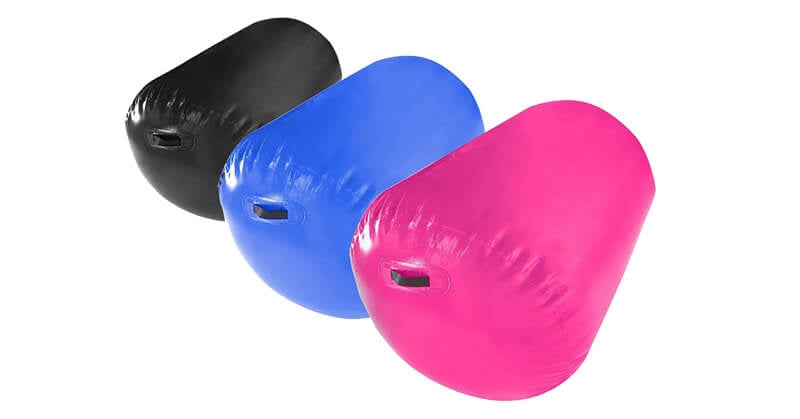 What is an Air Roller?
The Air Roller, sometimes known as an air barrel, is becoming a common piece of equipment in gyms and at home. They can be used as part of a complete training session for gymnasts, used as an aid for moves such as back handsprings or front tucks. This item has become popular among dancers too for warm ups. You can use an Air Roller during yoga sessions to help tone your body shape without weight bearing exercises like sit up rows (and it works!).