How Often Should You Clean Your Home Gym Equipment?
Take staying fit and healthy to the next level by keeping your home gym clean and germ-free.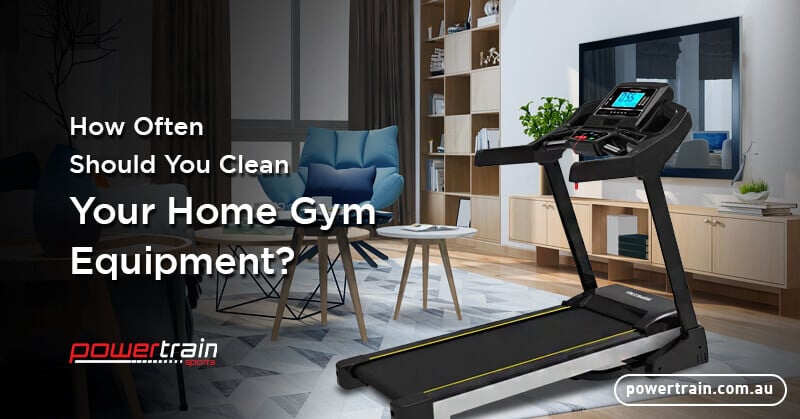 'We're halfway there guys, let's finish strong!'
This is a phrase you'll often hear if you do a lot of virtual workouts — something that we've become all too familiar with since the pandemic began.
While commercial gyms are back in full swing, many of us now prefer to work out in the comfort of our homes. It's common to have a home gym or small area allotted for working out.
Your home gym can contain a wide range of equipment, from yoga/exercise mats, treadmills, exercise bikes, resistance bands, dumbbells and benches — all of which require regular maintenance and cleaning to get rid of harmful viruses and bacteria.
But the question is, are you cleaning them enough?
I work out alone. Why should I clean my home gym more often?
According to Everyday Health, home gyms are incredibly high-touch environments that involve a lot of fast, deep panting and aerosolisation of respiratory droplets. Gyms and workout areas are easy outlets for germs to spread, which is why it's important to clean them regularly.
This begs the question: how often should you clean your home gym equipment?
When to clean your home gym
It's important to clean your gym equipment regularly.
As much as possible, you should disinfect your home gym equipment after every use. It's a good practice to sanitise your yoga mat, cardio machines (like treadmills, exercise bikes or ellipticals), dumbbells and other workout gear using a disinfectant spray and paper towel following each use to keep them clean and in good shape.
On top of this, it's also important to do a deep cleaning session every one to two weeks. This will keep your equipment clean and ready to use for a new week of workouts.
What to clean home gym equipment with
You can use a microfiber cloth and a good-quality all-purpose cleaner to keep your home gym clean and disinfected.
You can also make your own disinfectant at home using 1/4 cup bleach and a gallon of water. This has the same effect as your store-bought all-purpose cleaner, plus it's a great alternative if you don't want to buy a separate disinfectant.
How to clean common home gym equipment
A range of home gym equipment from Powertrain
It's important to note that there are different ways to disinfect your home gym equipment. However, one thing is certain: there is always a disinfectant involved. Here's how to clean common home gym gear, from treadmills to yoga mats:
This includes popular equipment such as treadmills, ellipticals and exercise bikes. Because we sweat a lot when doing cardio, it's important to focus on spots that are often touched.
This includes the handles, screen and seats — most of which can be wiped clean with a disinfectant spray and cloth. For screens in particular, it's advised to spray disinfectant onto the cloth first before wiping down the machine. This will avoid streaks from forming.
You should also hit spots such as pedals and the tread of your treadmill given that these areas are prone to dirt. Stains formed in these areas are usually stubborn but an easy fix for this would be using a soft-bristle brush to clean them up.
There are two ways to clean yoga/exercise mats:
applying disinfectant spray onto the mat and wiping it with a cloth afterwards or
soaking the mat in soapy warm water and scrubbing it down.
The second way is great for deep cleaning your mats but the first way is much quicker — and something you can do after every yoga or workout session. Make sure to dry the mat thoroughly before rolling it up for storage.
Unlike cardio machines and yoga mats, dumbbells and weights are much easier to clean. All you have to do is spray disinfectant on the surface and wipe dry afterwards. Make sure to wipe the handle thoroughly, especially if you share the dumbbell with others.
If you use adjustable dumbbells, you'll also want to disinfect the weight plates and handles separately at least once a week.
If you do a lot of lying-down exercises, your dumbbell bench definitely needs some cleaning. Make sure to wipe it down after every use with a disinfectant spray and cloth. You can also use a brush to remove any dirt or stains.
Similar to dumbbells and weights, weight machines are also easy to clean. You just have to spray it with disinfectant and wipe it dry after, considering that you have hit the necessary nooks and crannies already.
To wrap up…
It is important to keep in mind that each home gym (and user!) is unique. Whether you have a yoga mat and a couple of dumbbells or a whole row of workout equipment, keeping your exercise gear clean and disinfected should be top of your priority.
After all, keeping your home gym clean goes a long way in your goal to stay fit and healthy!