If you're shopping for a yoga mat, you may have noticed that there are several types available on the market. Some are cheap but not well-cushioned (plus they flake easily) while others are high-end with perfect cushioning (but they tend to cost a fortune.)
Luckily, that's not always the case! You can get a good-quality yoga mat at an affordable price with just a little research and online browsing. Here's what you need to consider when looking for a yoga mat.
What to Consider When Choosing a Yoga Mat
There are a lot of things to look out for when it comes to choosing your yoga mat, but an easy way to remember such is through the acronym TEMPT: Thickness, Eco-friendliness, Material, Price, and Texture.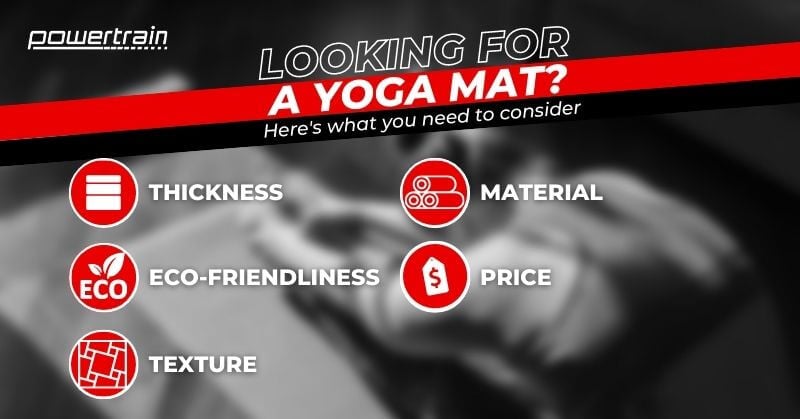 Thickness
It's important to take note of how thick the mat is, especially when you're one to put comfort first. The thicker, the better? Not necessarily. A standard yoga mat is about 1/8 inch (3.18 mm) thick while the thickest are about 1/4 inch (6.35 mm). If you want one that's easier to fold and doesn't weigh much, you can opt for the wafer-thin yoga mats that are usually 1/16 inch (1.57 mm) in width. But if not, better to go with either the 1/4 or 1/8 inch depending on your preference!
It really boils down on where you use the mat but some yoga practitioners go for a more cushioned mat to protect their knees, while others may want a thinner one to help them stay balanced and grounded.
Eco-friendliness and Material
Our health and the environment both benefit from eco-friendly yoga mats so it's important to also consider what your mat is made of. Go for yoga mats that are made up of natural materials such as jute and organic cotton or ones that are made out of TPE, a type of plastic that's durable, easy-to-clean, harbors less germs and all the more eco-friendly compared to usual plasticine mats as it contains less chemicals.
Price
A yoga mat usually costs around AUD 20 to 100 depending on the material used for it so when buying one, it's important to set a budget and narrow down what you want your mat to have. Consider asking yourselves how often you'll use the mat, what will the cost per use be and whether it's worth it to buy it at that specific price. The initial goal here is to find a yoga mat that caters to all your needs at an affordable price so that quality and quantity (thickness-wise) is both addressed.
Texture
You wouldn't want to slip on your mat, so make sure to also consider its texture. This usually dictates how much you can grip on it and helps you avoid slipping or sliding during down dogs. Generally, the more textured, the better grip but note that this varies as the mat should also be made up of the right material so it's not too rough or slippery when used.
That's about it! Remembering the acronym TEMPT is a good start when choosing a yoga mat so make sure to have this in mind the next time you go shopping for gym essentials.
And you don't even have to look any further because we got you! Get your very own eco-friendly yoga mat here at Powertrain:
So what are you waiting for? This is your sign or TEMPT-ation rather to buy yours now!