Powertrain V100 vs MX2: Our Best Running Treadmills Compared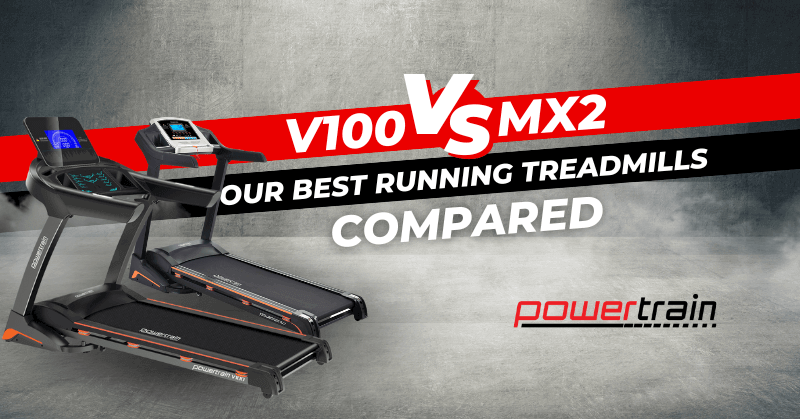 It's a known fact that treadmills are some of the most popular gym machines people often go to for cardio. Intuitive, beginner-friendly and straightforward, treadmills allow you to walk, jog and run in the comfort of your own home or garage.
Considering this, it's not surprising that some people really invest a lot of time when it comes to picking out the perfect treadmill. Most people often look for one that is comfortable, quiet, easy to use and will last a long time — a treadmill that caters to their wants as well as needs.
Here at Powertrain, we carry a wide range of treadmills to suit everyone — from couch potato to cardio buff. But for the dedicated runner, we recommend two of our best treadmills: the V100 and MX2.
Both of these machines are great for running, with spacious running decks and a 20km/h max speed that makes your workout all the more fun.
The Powertrain V100 makes a fantastic choice for your everyday workouts as it is equipped with all the features you need for efficient body conditioning while the Powertrain MX2 is for those who want to make the most out of their workouts given that it's a versatile treadmill that can meet your preferred speed and incline settings.
But what exactly makes them the best choices? Let's see!
Running Deck & Weight Capacity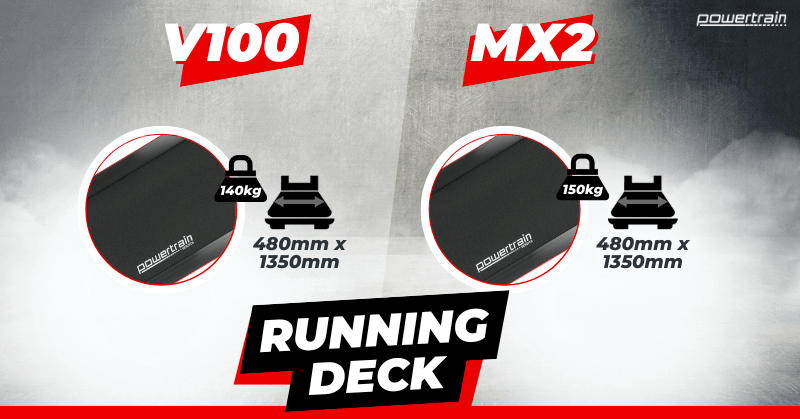 Both machines have a running area of 480mm x 1350mm. However, the V100 has a weight capacity of 140kg, while the MX2 has a cap of 150kg.
Both treadmills are spacious and reliable plus they also include shock absorption systems which ensure a safe and smooth experience.
Speed
As mentioned, the V100 and MX2 are tied when it comes to speed.Both of these run at a maximum of 20 kilometres per hour — ideal for dedicated runners who want to stay on top of their fitness goals. Both machines add that extra push for those who want to run faster than usual.
Incline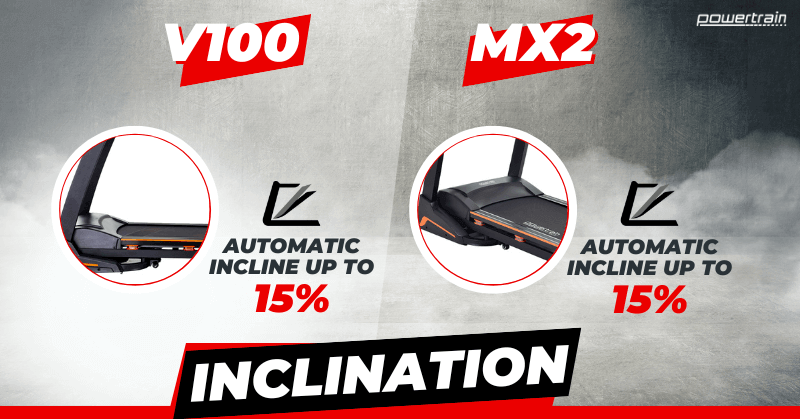 Incline-wise, these two machines are also neck and neck as both have inclination levels that go up to 15% — quite the leap compared to your usual treadmills that have a 10% maximum incline.
The V100 and MX2's automatic incline function go up to 15%, allowing you to simulate uphill walks for lower body toning.
Both treadmills come with intensive speed and incline shortcut buttons as well as handlebars that greatly help you progress with your workout. However, if you're inclined to high-intensity interval training, the MX2 may be the better-suited treadmill as it has a wider range of speed and incline shortcuts compared to the V100.
Console & Display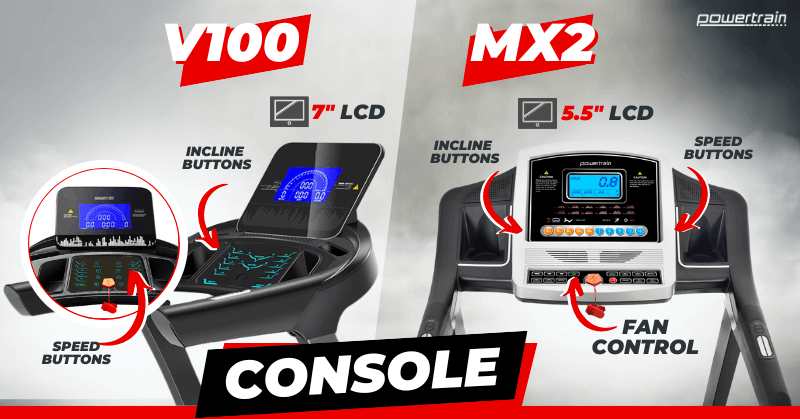 The V100 has a 7-inch LCD screen that displays speed, workout duration and distance, plus calories burned and pulse so you can check your progress at a glance. Definitely something to consider as it only takes pressing the quick-start button to exercise.
MX2 on the other hand has a 5.5-inch, user-friendly LCD interface which features a quick-start button, media controls, and speed and incline shortcuts perfect for HIIT (high-intensity interval training) and endurance treadmill sessions — perfect for those who want to customise and mix up their cardio workouts.
These machines also allow you to play music via USB and MP3 input as they have speakers and volume controls; however, the MX2 offers more control over your music with its mute, previous and next buttons.
More so, the MX2 also has a fan function for those extra hot and humid workout days.
The V100, on the other hand, impresses with its touch control panel, with a sleek interface that belongs in every modern home gym. And the treadmill itself looks awesome, too!
Still can't decide? It really just boils down to your workout (and aesthetic) preferences at the end of the day. Check out the summary below:
Powertrain K100 vs Powertrain MX1: Summary
| V100 | MX2 |
| --- | --- |
| Price: $1090 | Price: $1090 |
| 12 preset programs | 12 preset programs |
| Speed Range: 1 to 20 kph | Speed Range: 1 to 20 kph |
| Automatic incline up to 15% | Automatic incline up to 15% |
| 7-inch LED Screen | 5.5-inch LCD Screen |
| Smooth keypad | Touch control panel |
| Pulse sensor & handlebar controls | Pulse sensor & handlebar controls |
| Speed presets: 3 to 12 kph | Speed presets: 3 to 16 kph |
| Incline presets: 2% to 10% | Incline presets: 3% to 15% |
| Beverage Holder | Beverage Holder |
| | Fan Function |
The V100 and MX2 may be quite similar in terms of features and price. It's up to you to decide which meets your needs more.
Want a big, sleek console? The V100 looks as good as it performs.
Need a workhorse for daily cardio, with a fan to cool you down? The MX2 is waiting for you.
Learn more about these treadmills below: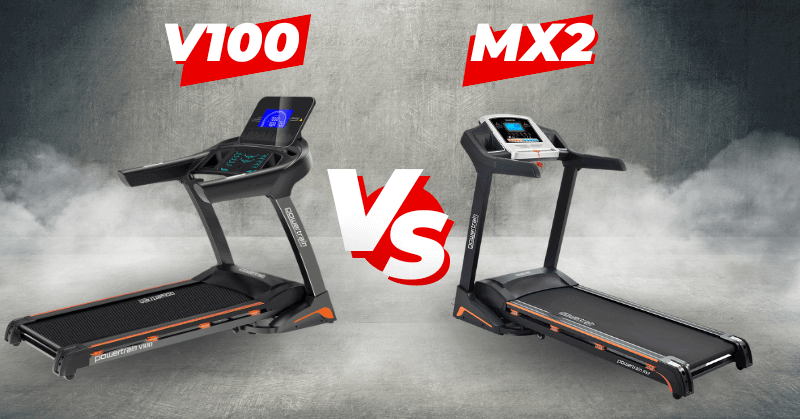 Powertrain V100 Treadmill

$1090
SHOP NOW

Powertrain MX2 Treadmill

$1090
SHOP NOW