Powertrain Pair Dip Bar Parallette Stand Workout Station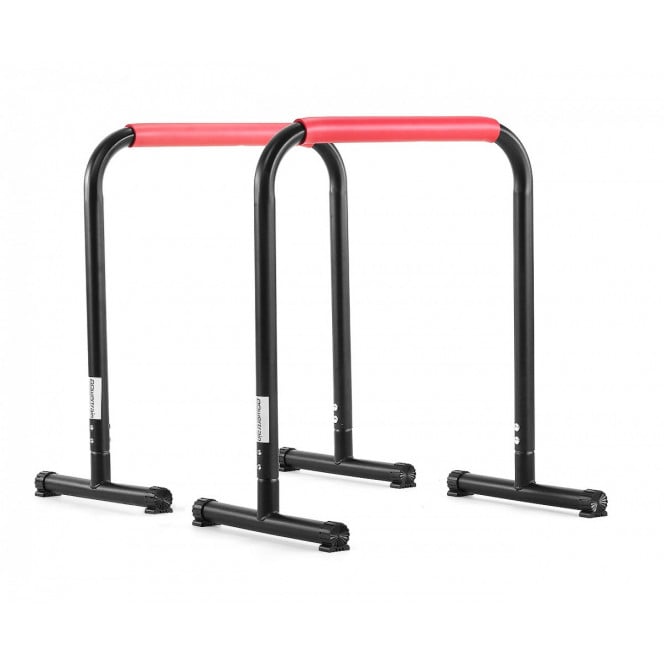 Portable Dip Bars Station
A great addition for you home gym: This fitness rack is a versatile training equipment that allows its user to perform number of body weight exercises providing great results in strength training. It comprises of two parallel dipping bars which can accommodate up to 150kg total user weight.
Padded Grip
These Dip Bars feature large grips which prevent slip and enhance comfort during intense workouts which makes working out easy and comfortable.
Multiple Workout Fitness Options
These parallel dip bars allow you to do many exercises including full bodyweight and assisted dips, push-ups, vertical rows or pull ups, core work, split squats, leg raise and so much more. Body weight is used as a resistance while training different muscle groups, so you're always in complete control of intensity of the workout. Powertrain dip-bars are a simple piece of workout equipment ideal for exercising the whole body and keeping fit.
Dip Bar Benefits and Features:
Extra large grips
Sturdy construction
Lightweight yet strong
Max user weight: 150kg
Height: 73cm(approx.)
Base bars: 40cm
Gripped bar length: 43cm
Dip Bar Specifications:
Brand:

Powertrain

Size:

73cm(h)
Dip Bar Package Contents:
2 x Dipping Bar Stands
Instructions manual with exercise guide
sku: rack-dip
See Terms & Privacy for 30 day returns information.