25kg Powertrain GEN2 Pro Adjustable Dumbbell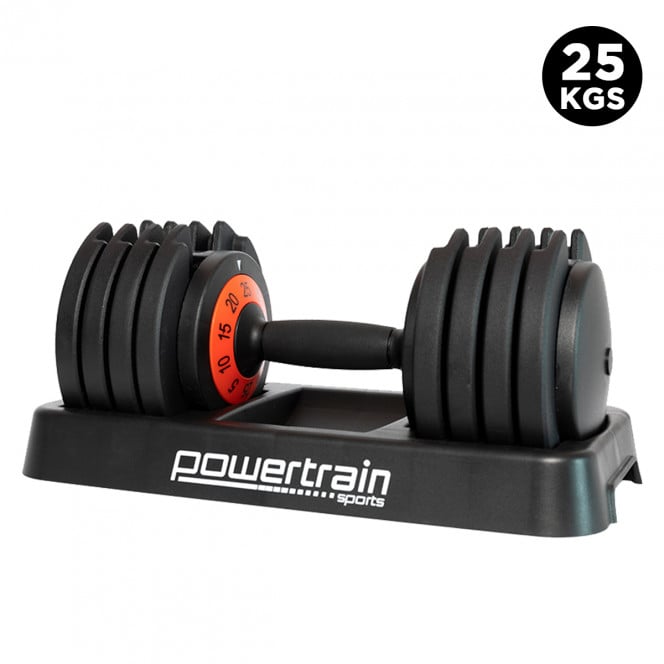 The smarter way to get stronger
Experience efficient weight training with the GEN2 Pro adjustable dumbbell. Equipped with an innovative adjustment handle, this dumbbell lets you save space at home and train without interruptions.
5 dumbbells rolled into 1
With a weight range of 5 to 25kg, the GEN2 Pro dumbbell offers the same value as 5 individual weights. It adjusts in 5kg increments, allowing you to build strength safely at any point in your fitness journey.
High-strength for serious lifting
Made of cast iron, this adjustable dumbbell doesn't hold back on durability. Its high-strength build makes it ideal for long-term training. And with its wide weight range, this dumbbell scales up to your fitness ability.
Hold, turn, lift
The 360-degree adjustment handle lets you change the weight in seconds, no matter how many plates you need. It also has weight markers so you know exactly how much you're lifting.
Ideal for beginners
With a 5kg handle, this adjustable dumbbell is perfect for those new to weight lifting. The rubberised surface is comfortable to grip and ideal for long training sessions. Get a full-body workout with just one piece of equipment.
Durable storage base
The fitted base keeps the plates organised, aligned and ready for weight switching. Better yet, it ensures that your dumbbell won't roll away!
Dumbbell Features:
Space-saving - Can replace 5 pairs of dumbbells
Beginner-friendly - 5kg to 25kg weight range
Fast weight switching - Just turn the handle to adjust
Made with cast iron to withstand heavy use
Durable nylon base for storage
Dumbbell Contents:
1x Gen2 25kg Dumbbell
1x Dumbbell storage base
sku: dmb-td1-ad3
See Terms & Privacy for 30 day returns information.