50kg Powertrain GEN2 Pro Adjustable Dumbbell Set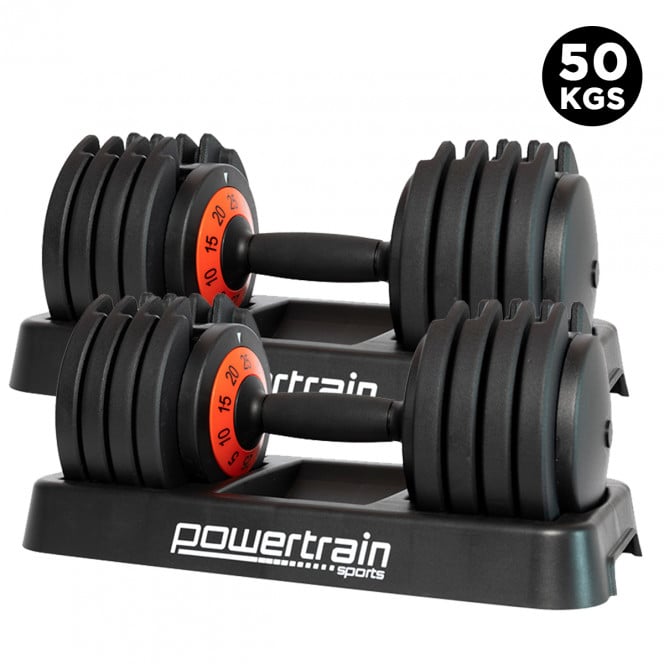 The smarter way to get stronger
Don't let fiddly dumbbells throw you off your training. The GEN2 Pro adjustable dumbbells offer 5 weight settings each, so you can spend less time switching and more time lifting. It's quick, easy and multifunctional - exactly what you want in a strength training essential.
10 dumbbells rolled into 1 pair
With a 50kg total weight (25kg per dumbbell), this Powertrain dumbbell set offers the same value as 10 individual weights. Each dumbbell adjusts in 5kg increments, meaning you don't have to clutter up your home gym to keep seeing results.
Iron strength
Made of cast iron, these adjustable dumbbells don't hold back on durability. Its high-strength build means it will stay with you throughout your fitness journey.
One-turn adjustment
The 360-degree adjustment handle lets you change the weight in seconds, perfect for supersets and dropsets that require rapid switching. Large markers clearly display the current resistance level, so you always know the exact weight you're lifting.
5kg rubberised handle
For light toning and conditioning, the 5kg handle is no lightweight. The rubberised surface provides excellent grip and helps prevents chafed palms. Grab and go to boost the intensity of your workout
Durable storage base
With a fitted nylon base, these adjustable dumbbells won't roll away. It has 8 locking grooves to keep the weight plates aligned, ensuring safe and secure lifting every single time.
Dumbbell Features:
Set of 2 adjustable dumbbells
Weight range: 5kg to 25kg each (50kg total)
Space-saving Can replace 10 individual dumbbells
Fast weight switching Just turn the handle to adjust
Made with cast iron to withstand heavy use
Durable base for storage
Dumbbell Contents:
2x Gen2 25kg Dumbbells
1x Dumbbell storage bases
sku: dmb-td1-ad3-2
See Terms & Privacy for 30 day returns information.