Powertrain Adjustable FID Home Gym Bench with Preacher Curl Pad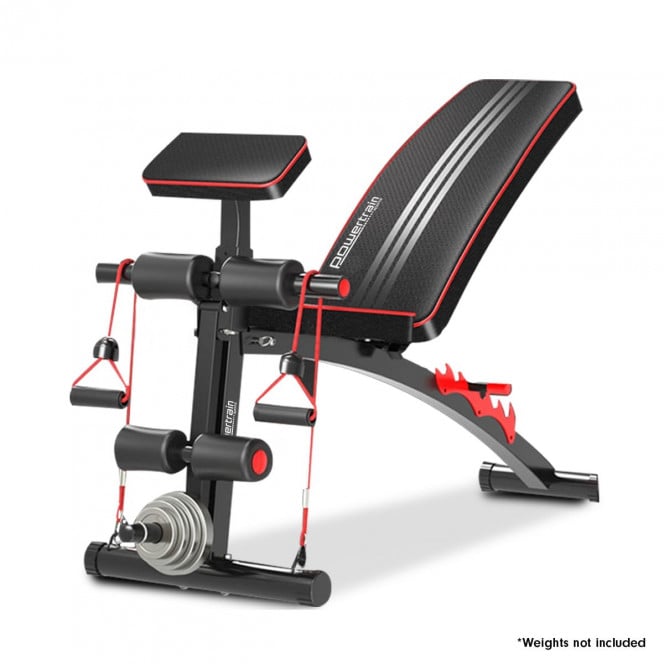 Get a total body workout with the Powertrain home gym bench! Featuring resistance bands and a preacher curl pad, this all-in-one adjustable weight bench lets you get specific with your exercises so you can build the rounded guns you want.
It's not just for bigger biceps - this adjustable weight bench is also great for bodyweight exercises such as sit-ups, crunches, and push-ups that will tone your core and shoulders. You can also add dumbbells for even more variety, giving you a complete home gym at an affordable cost.
You don't have to skip leg day, either, as this home gym bench comes with an attachment for leg extensions and curls with a handy pin to lock or unlock it in seconds. It also has a sturdy weight plate holder, giving your home gym that neat and professional look. (Kindly note that weight plates and dumbbells are not included in this set.)
With 6 angle settings, this flat-incline-decline or FID bench makes for a versatile addition to any home gym. It's built to last with heavy-gauge, powder-coated steel and has thick padded cushions to ensure comfortable workouts every single time.
More than just an adjustable weight bench, this is an all-in-one home gym machine that offers full body fitness at an extremely attractive price.
Features:
Incline - Decline - Flat bench
Robust steel frame
Max load weight: 150kg
Adjustable flat/incline/decline positions
Dimensions: 140 x 50 x 106cm
Preachers Curl extension
Resistance bands
Contents:
1 x Home Gym Bench
1 x Instructions
sku: wbd-208
See Terms & Privacy for 30 day returns information.