80kg Adjustable Dumbbells Set with Stand by Powertrain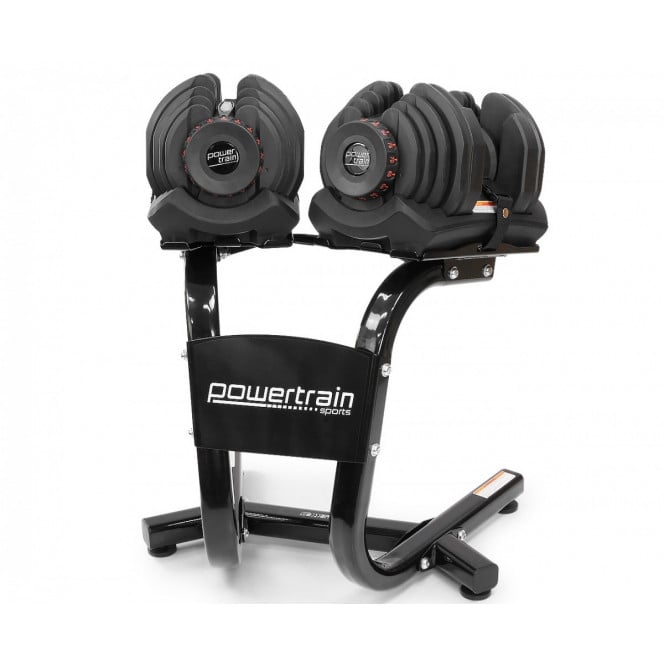 80kg dumbbell set with Stand - 2 x 40kg
If you're a serious bodybuilder, you want to get the best dumbbells for your home gym. The Powertrain 40kg adjustable dumbbell set is just that - and it comes with a heavy-duty dumbbell stand, too.
With this set, you get two high-quality adjustable dumbbells plus a sleek stand that will make your home gym look professional. This workout equipment set effectively replaces a full dumbbell rack, making it ideal for those who have limited space but are serious about gaining mass.
Perform supersets, drop sets, or circuits efficiently with the quick-adjust mechanism, which secures all weights you want at the turn of a dial. Each adjustable dumbbell has a weight range of 5kg to 40kg, offering great versatility for shoulder, back, and arm workouts. No more fiddling with weight plates and locks - just turn the dial, grab the handle, and lift.
The dumbbell stand stands out not only for its superior construction but also for the posture benefits that you get. It aligns the weights to improve your posture and protect your back, supporting your fitness and health all around.
For beginners and dedicated weight lifters, this Powertrain dumbbell set offers incredible value!
Features:
Easy to use - Simply rotate the dial and lift
Adjustable to 17 different weights each
Weight range: 10-90lb (4.5-40kg) each
Specifications:
Contents:
2 x 40kg Adjustable Dumbbells
2 x Dumbbell holders
1 x Heavy Duty Dumbbell Stand
1 x User Manual
sku: dmb-bf2-040-2s
See Terms & Privacy for 30 day returns information.