How to Choose the Best Indoor Cycling Shoes: A Brief Guide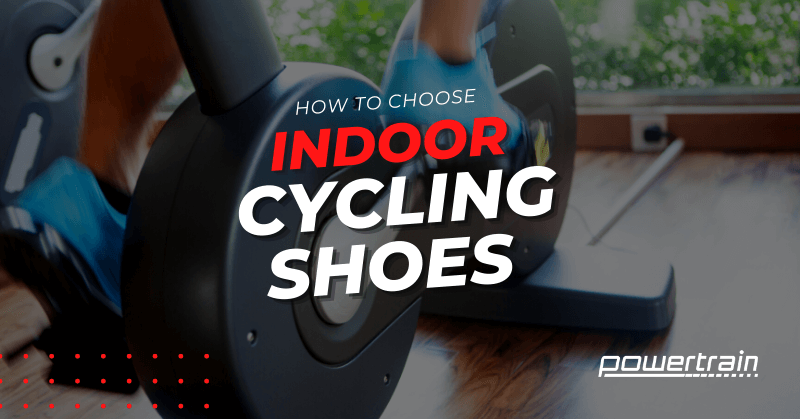 With so many cycling shoes out there, you may be asking yourself: "What makes indoor cycling shoes so special? Can't I just use my regular pair of gym shoes?"
To answer that last question: yes and no.
Cycling shoes are firmer than your normal shoes for running or working out. These shoes have a closer and tighter fit, plus some have holes in the sole to accommodate cleats. That means most serious bikers will own a pair or two, especially if they're training to improve their performance and speed on the bike.
However, if you're just cycling for fitness a few times a week, and you're not too worried about beating any world records, your regular gym shoes are absolutely fine. Just make sure that they fit well and are grippy enough to stay on the pedals of your indoor bike.
That said, using indoor cycling shoes can lead to more benefits, including:
increased calorie burn,
more stability on the bike,
increased comfort, and
more power.
So if you're set on buying a new pair and reaping the potential benefits, here's what you need to know.
Factors to consider when buying indoor cycling shoes
While some buyers may just consider the design or the brand, there are basic things to look out for when getting indoor cycling shoes that will best suit your needs and comfort. Here are the basic factors to consider when getting indoor cycling shoes:
Cleats and soles
Most home gym bikes (such as Powertrain's exercise spin bikes) can be used with or without a cleat. That's because they use flat pedals, which are designed to suit most indoor bike users. Many flat pedals are reversible, with toe cages on the other side to provide extra stability. This means you can use regular sneakers and simply tighten the toe cages for a snug and secure fit.
However, some gym bikes use a clipless pedal system, which requires the use of cleats. If you're planning to switch to clipless pedals, the type of pedal you get will determine which indoor cycling shoes and cleats you'll need. If the shoe has the wrong cleat, it will not fit the bike and will only be a waste. Hence, if in doubt, ask your gym first or the bike manufacturer.
For beginners, there are two types of cleats:
Shimano Pedaling Dynamics (SPD) cleats
SPD-SL / Look Delta cleats
SPD cleats are the most widely known clips. They have two bolts that go in the shoe and clip to the pedal. Most mountain bikes and indoor bikes also use SPD cleats. These cleats are flatter and easier to walk on, making them ideal for beginners.
Meanwhile, the SPD-SL / Look Delta cleats have three bolts and are used by some spinning bike manufacturers.
It's also important to know that most cycling shoes do not come with cleats. You have to buy your own and attach these yourself. Furthermore, it is also worth noting that the cleat position is important as it may affect your foot comfort on the bike and your joint health.
Here's how to properly install cleats onto your shoes:
When you get to know which cleat is compatible with your stationary bike, you should go check the sole of the indoor cycling shoes that fits the cleat needs of your bike. There are some that can be easily walked with while some are not. Also, soles made from nylon are definitely heavier but are more affordable and also comfortable.
Ventilation
Whether it's indoor cycling shoes or just regular sneakers, ventilation is definitely one of the things that you should be looking for in your footwear. As for indoor cycling shoes, you can estimate the amount of ventilation your feet will get by checking on the material of the upper portion.
Since these shoes will be used indoors and there's less wind to cool your feet, ventilation should really matter in selecting the best indoor cycling shoes for you. Look out for an array of vents on the sole that will allow the air to go in. Another area of the shoes to check for vents are the insoles.
However, it is also important to note that the more vents there are, the more expensive indoor cycling shoes may get.
For superb ventilation, lightweight mesh material on the upper portion of the shoe is recommended. This should allow for more ventilation compared to a regular sneaker.
Fitting
As basic as the ventilation, the fit of any shoe is also as important. However, indoor cycling shoes (and any athletic shoes for that matter) really have to provide the best fit for you to maximise your performance.
If you live in a warmer area, your feet are more likely to swell when indoor cycling as compared to outdoor cycling. Hence, this should be a big factor to consider when choosing the size of your indoor cycling shoes.
Also, it is important to note that cycling shoes are usually offered in European sizing. While there are U.S. size equivalents, it is important to actually put the shoes on so you can see if it really fits you or not.
At the end of the day, choosing the best indoor cycling shoes will be based primarily on the type of cleat of your bike, then factors such as budget, ventilation, fitting and sole should follow.
What is important here is that your footwear is comfortable. With the following factors to consider, you'll find it easier to choose the best indoor cycling shoes for you and you'll be well on your way to hitting your personal fitness targets.
You May Also Like: