Powertrain Pull Up Station for Chin Ups Pull Ups and Dips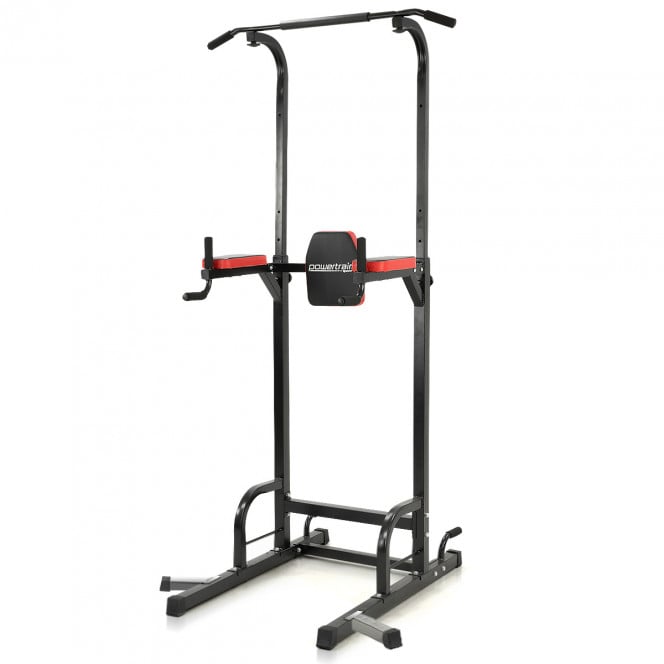 Pull Up Station Power Tower by Powertrain
Tone your back, shoulders, and abs at home with the Powertrain Power Tower Home Gym. This sturdy gym equipment makes for a great addition to your home gym especially if you do a lot of strength training and muscle toning.
This power tower deserves a spot in your list of home gym essentials. It allows you to use your own body weight to perform muscle-toning exercises. Utilising multiple grip positions, padded armrests, foam cushions, and back pad, this pull-up and dip station makes working out easy and comfortable. You'll save yourself the time of transferring from one piece of gym equipment to another, allowing for efficient supersets.
Multi-use exercise station
This power tower gym lets you perform workouts such as chin-ups, tricep push-ups (dip station), vertical knee raises, lat pull-ups, push-ups, and more! Tone your entire upper body with light daily workouts, or build strength and bulk using your own weight and save a small fortune on gym fees and heavy, large workout stations.
Made from heavy powder-coated steel with high-density foam rubber grips and a padded back and armrests, this power tower is built to last. It only takes up a little patch of space, making it ideal for home gym setups.
Achieve the level of fitness, upper-body strength, and health that you've always wanted with the Powertrain Power Tower.
Assembly is required and should take around 1 hour.
Power Tower Specifications:

| | |
| --- | --- |
| Brand: | Powertrain |
| Size: | 215 x 110 x 70cm |
| Unit Weight: | 22 kg |
| Unit Height: | 2.15 meters |
| Armrest height: | 132 cm |
| Lat-Bar width: | 110cm |
| Unit Footprint: | 70cm x 110cm |
| Max load: | 150kg |
Pull Up Station Contents:
sku: hgm-pow-j06-blk
See Terms & Privacy for 30 day returns information.