Powertrain Yoga Stability Disc Home Gym Pilates Balance Trainer - Pink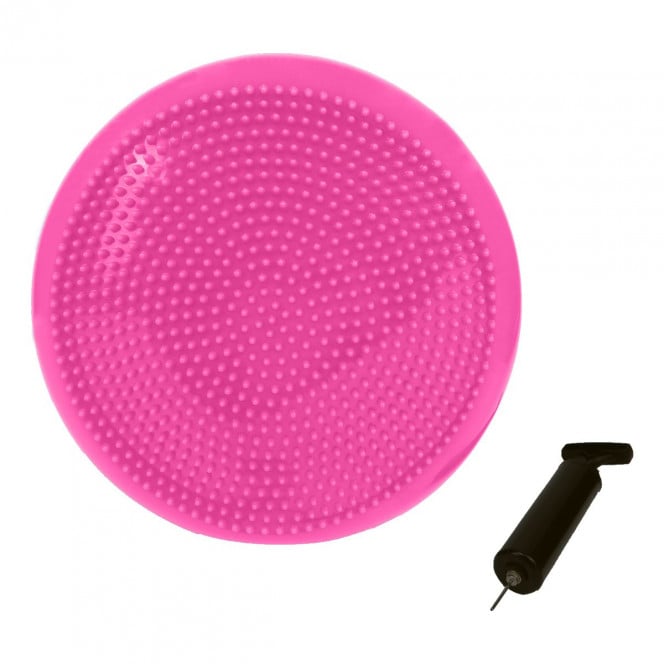 Get a stronger core in no time with Powertrain's portable stability disc! It's the perfect companion for ab conditioning routines but is also suitable for pilates, strength training, and yoga.
This inflatable PVC disc provides an unstable, sensory-simulating surface to improve your balance, core strength, and body awareness. It helps activate your core muscles as the body adjusts to maintain its balance. With this stability disc, you can increase the intensity of your lunges, crunches, sit-ups, and squats so you can get closer to your fitness goals.
The stability disc can also be used as a seat cushion to improve your posture. One side features acupressure points while the other has smaller, widely spaced dots for a gentler massaging sensation. Plus, a free hand pump is included with every stability disc for convenient inflation and deflation.
So whether you work out at home, in the gym, or even outdoors, this stability disc has got your back!
Features:
Inflatable Balance Board Disc
Size - 34.5cm
Material - Explosion-proof PVC
Add challenge to classic workouts
Textured surface to prevent slipping
Contents:
1 x Hand Pump
1 x Yoga Disc
sku: yga-dsc-pk
See Terms & Privacy for 30 day returns information.