Shoulder Compression Bandage Sports Support Protector Brace Strap Wrap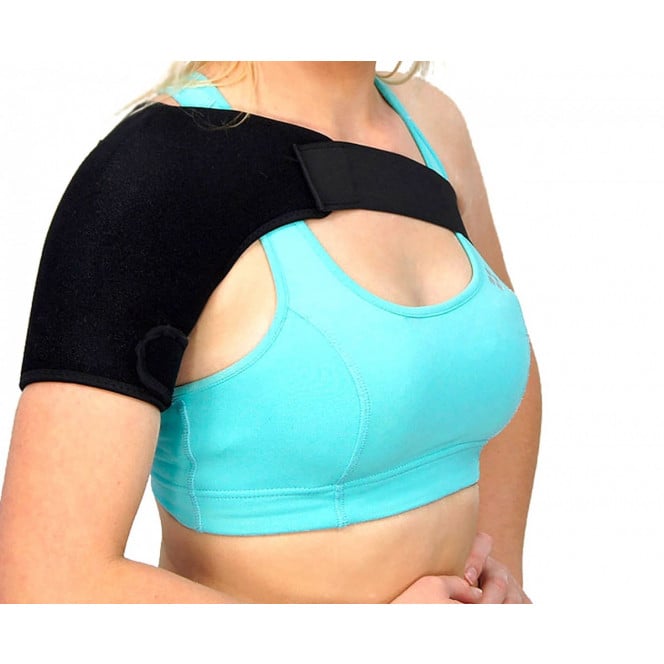 Shoulder neoprene compression support: This shoulder compression support is ideal to assist sports injuries to shoulders and upper arms.
The upper arm velco tab can be attached anywhere around the outside of the support, meaning this item will fit snugly on any arm from 24cm to 40cm circumference. (measured just below the armpit)
The 50mm wide chest band is elastic and can stretch from 48cm to 90cm, and also attaches with a velco tab to any place on the outside of the support, meaning this support will fit just about anyone and can be used to support left or right shoulder!
3-layer neoprene design: The unique 3-layer design provides a comfortable sweat-absorption red layer under the neoprene, and a soft black felt outer layer which prevents clothing from grabbing and pulling while providing unlimited adjustment for the velco tabs. The three layers are bonded together for maximum strength while at the same time offering high flexibility and compression support.
The neoprene advantage: Using neoprene supports injured muscles through compression as well as proving therapeutic warmth to the affected area. This means that it is not only a great way to help support your injury during recovery activity but may also help ease pain during non-active times.
In The Box:
sku: cb-sha
See Terms & Privacy for 30 day returns information.