Air Track Powertrain 3m x 1m Inflatable Tumbling Gymnastics Mat - Blue White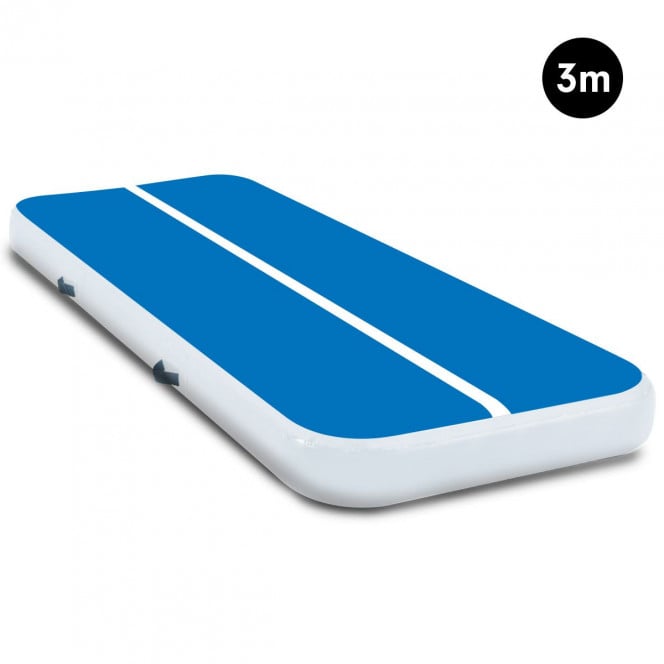 From taekwondo to gymnastics, do your favourite sports activities safely on this multi-purpose air track from Powertrain.
This inflatable gymnastics mat measures 3m long x 1m wide x 20cm deep and has four handles that make it easy to move between different areas in your home, backyard, or gym. It also deflates into a small size so you can conveniently transport it from one location to another.
Air tracks provide a cushioned and supportive surface, letting you practise tumbling and other skills in a safe environment. This air track is made of drop-stitch PVC and anti-slip EVA, making it more durable and airtight compared to traditional gymnastics equipment. The mat also has a centre guideline to help you with form and alignment.
Highly elastic, this Powertrain gymnastics mat is soft on the body at low pressures but provides more bounce at higher ones. It also lessens the chance of repetitive strain injuries so you can perfect your skills without worries.
The built-in valve is compatible with both hand and electric pumps for quick inflation and deflation. Once inflated, the mat stays firm and bouncy for days - giving you the most convenient experience.
For safe and effective training, nothing beats this inflatable gymnastics mat from Powertrain!
Features:
Inflatable Air Track Tumbling Mat
1000-denier double-wall PVC fabric (Drop stitch)
Maximum pressure: 10PSI/ 0.7BAR
Easy carry handles
Anti-slip and durable surface
Built-in valve
Length: 3m
Width: 1m
Thickness: 20cm
Contents:
sku: ifm-0301-buwh
See Terms & Privacy for 30 day returns information.