Powertrain 5-in-1 Elliptical Cross Trainer Bike with Dumbbells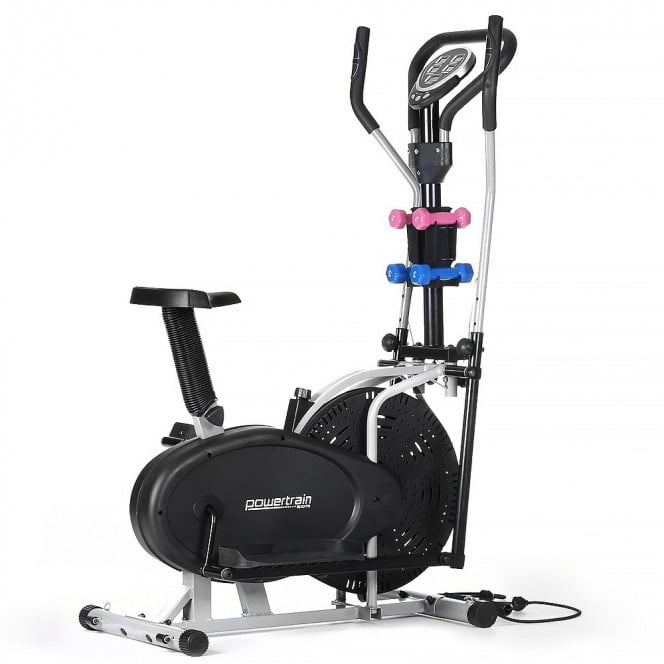 Say hello to Powertrain's 5-in-1 elliptical cross trainer bike - the next level in home gym equipment.
This space-saving machine combines an elliptical trainer and spin bike in one to give you more flexibility in your at-home cardio training program. Use the machine seated for high-intensity cycling, or stand up and hold onto the moving handles for a low-impact exercise session.
The innovative design lets you target and tone different muscle groups, including your arms, quads, and core. Reversible pedals also make it possible to cycle backwards, so you can activate more leg muscles for a balanced workout.
The exercise bike's LCD screen displays time duration, speed, distance, heart rate, and calories burned so you can push your personal best with each session. Pulse sensors are conveniently located on the bike handles for continuous tracking as you work out.
Each machine also comes with two dumbbell pairs (2lbs and 3lbs) made of iron and coated with vinyl for maximum comfort and grip. Training with dumbbells can help you build strength and will complement your cardio sessions on the cross trainer.
Finally, the bike comes with resistance bands that you can attach to the front or back, giving you more flexibility in your home gym setup. Resistance bands are a great way to add variety to your home workout routines and will let you perform light exercises to condition your muscles.
With so many awesome features rolled into one machine, this Powertrain 5-in-1 elliptical bike is perfect for anyone looking to boost their health and fitness!
Elliptical Trainer Features:
Non-impact workout: easy on joints
Full body workout
Ergonomic design
Heart rate monitor
Variable resistance
Reversible movement
Full body workout
Maximum user weight: 110kg
Dimensions: 145(H) x 60(W) x 110(L) approx
Elliptical Trainer Specifications:
Brand:

Powertrain

Type:

Elliptical Trainer

Max Weight Cap:

110kg

Frame:

Steel

Overall Height:

145cm

Unit Weight:

35kg
Elliptical Trainer Contents:
Elliptical Cross Trainer Bike
Resistance tube set
1 x 2lbs Dumbbell set
1 x 3lbs Dumbbell set
Carton dimensions: 92 x 67 x 23cm
sku: ect-xda-050
See Terms & Privacy for 30 day returns information.