Powertrain 6-in-1 Elliptical Cross Trainer Bike with Weights and Twist Disc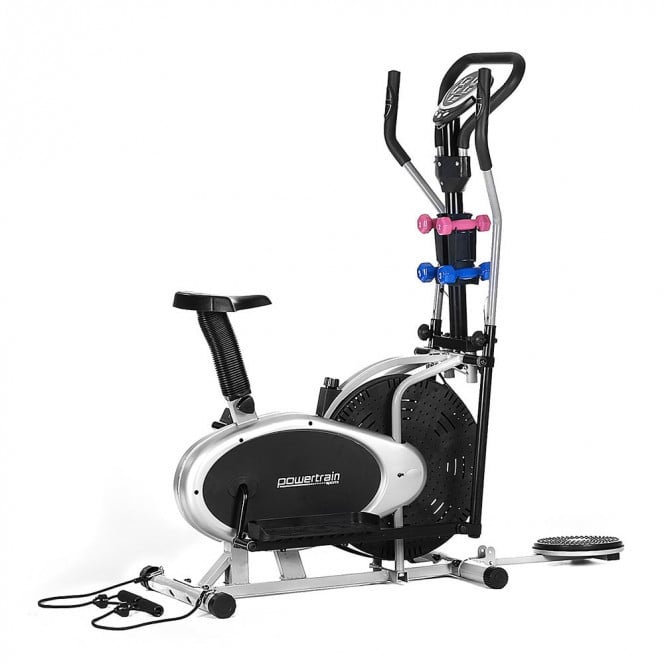 Elliptical Cross Trainer Bike with Weights and Twist Disc
With 6 functions rolled into one, you can't get a better deal than this Powertrain 6-in-1 home gym!
Save space and money while getting maximum results in your strength and cardio training programs. This compact machine can be used either as an exercise bike or an elliptical trainer, giving you more versatility in your workouts. Use it seated or standing and get sweating in no time!
Reversible training to target different muscle groups
This cross trainer bike comes with reversible pedals, letting you cycle backwards and tone a different set of muscles. The bike's resistance is adjustable as well, so you're sure to find the right intensity for your fitness ability and goals.
An LCD screen displays your time duration, speed, distance, heart rate, and calories burned, making it easy to track your progress with each cardio session. Pulse sensors are also located on the handles for continuous and more accurate tracking during each workout.
Aside from its cardio functions, this home gym machine also comes with two pairs of dumbbells (2lbs and 3lbs), which are made of iron and vinyl coating for better comfort and grip. These are perfect for adding intensity to your workouts so you can achieve your fitness goals faster.
The cross trainer also comes with resistance bands for strength training and a twist disc attachment which is perfect for improving your muscle tone, circulation, flexibility, and mobility. Pull and twist your way to slimmer abs, glutes, and quadriceps!
With such incredible features, this 6-in-1 elliptical bike is definitely one of the best home gym machines you can get. Start your journey to a fitter and healthier you with Powertrain!
Elliptical Trainer Features:
Non-impact workout: easy on joints
Full body workout
Ergonomic design
Heart rate monitor
Variable resistance
Reversible movement
Disc diameter: 10cm
Maximum user weight: 110kg
Total weight 38kg
Dimensions: 143(H) x 62(W) x 130(L) approx
Elliptical Trainer Specifications:
Brand:

Powertrain

Frame:

Steel

Overall Height:

143cm

Unit Weight:

38kg
Elliptical Trainer Contents:
Elliptical Trainer
4 x weights
2 x resistance bands
User Manual
sku: ect-xda-514
See Terms & Privacy for 30 day returns information.