Powertrain Elliptical Cross Trainer Bike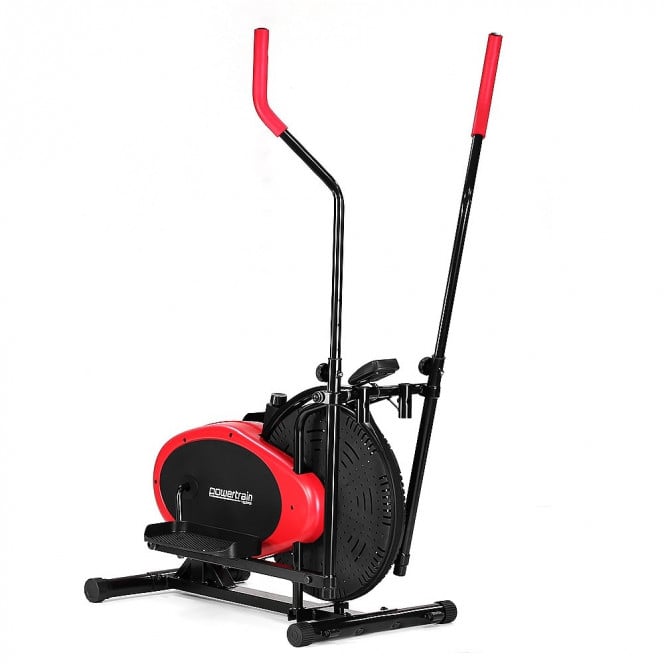 About the Powertrain Elliptical Cross Trainer
Meet Powertrain's elliptical cross trainer bike - a revolution in home gym equipment.
This elliptical cross trainer simulates daily movements like walking or climbing while also minimising the repetitive strain on your knees and other joints. The machine's smooth gliding motion lets you perform effective and low-impact cardio exercises to boost your overall health and fitness.
With its compact frame and affordable price, this quality cross trainer lets you save space and also money while getting maximum results. It lets you switch between stationary and elliptical handles in less than 30 seconds so you can work just your legs or have a total body workout.
The elliptical cross trainer also features a reversible pedal, which targets and activates a whole new muscle group as you push backward. This lets you tone your legs like no other home gym machine on the market!
The on-board display shows duration, speed, distance, and even an estimate of calories burned, making it easier to push your personal best. You can also turn the resistance up to burn even more calories per session.
Don't put off getting in shape any longer. Take the first step with the Powertrain multi-function elliptical cross trainer bike today!
Elliptical Trainer Features:
Non-impact workout: easy on joints
Full body workout
Ergonomic design
Total weight 25kg
Maximum user weight: 115kg
132(H) x 50(W) x 100(L) (cm approx)
Variable resistance
Reversible movement
Elliptical Trainer Specifications:
Brand:

Powertrain

Size:

132(H) x 50(W) x 100(L)

Max Weight Cap:

115kg

Frame:

Steel

Overall Height:

150cm
Elliptical Trainer Contents:
Elliptical Trainer
Manual
sku: ect-xda-201
See Terms & Privacy for 30 day returns information.