Powertrain Eco-Friendly TPE Pilates Exercise Yoga Mat 8mm - Green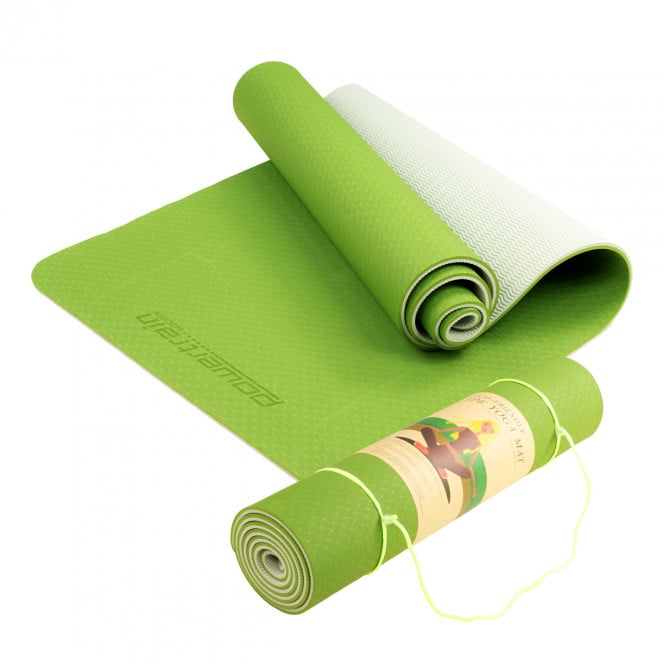 Build flexibility and core strength with Powertrain's eco-friendly yoga and exercise mats. This mat comes in two refreshing shades of green, so you can quickly identify the top and bottom sides. No more flipping or turning your mat just before yoga class!
This exercise mat is made of non-toxic and biodegradable TPE. It's free from latex and PVC, and is made extra durable for regular and long-term use. The 8mm thick surface protects your elbows, wrists, and knees, minimising discomfort so you can stay focused on your practice. The two-sided non-slip surface ensures a smooth and steady workout every single time.
The closed-cell structure of this yoga mat blocks sweat and germs from seeping into the material. Each yoga mat comes with a free strap for convenient transport and storage.
Features:
100% Latex-free and PVC-free
Gentle cushioning for knees and other joints
Non-slip surface
Easy to clean
Includes carry strap
Specifications:
Material:

TPE

Size:

183cm (L) x 61cm (W)

Type:

Yoga Mat

Colour:

Green

Thickness:

8mm
Contents:
1 x TPE Exercise Mat
1 x Carry Strap
sku: ym-tpe-dhg-gn
See Terms & Privacy for 30 day returns information.