Adjustable Dumbbells 20kg each Powertrain Gen2 Home Gym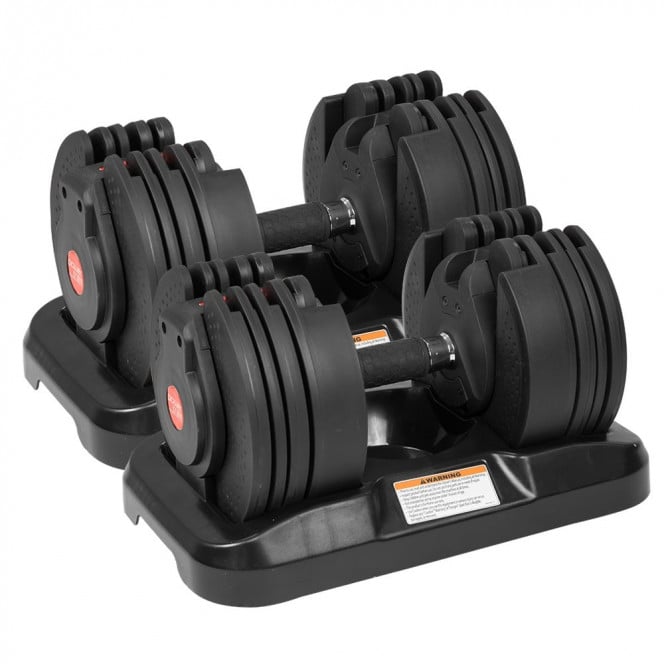 Adjustable Dumbbell weight set 40kg (20kg each)
Achieve your fitness goals in the comfort of your own garage or home gym with the Powertrain Gen2 20kg adjustable dumbbell set. This set comprises two adjustable dumbbells that have a weight range of 2kg to 20kg each, letting you gradually increase the resistance on your two-dumbbell workouts.
These Powertrain adjustable dumbbells use an innovative mechanism to lock the plates, automatically attaching or detaching them to set the selected weight.
Switching takes only one second, making these ideal if you often do supersets and drop sets that require different levels of resistance. This means you spend more time building muscle and less time switching weights.
The Powertrain Gen2's ergonomic design makes it the most compact and versatile free-weight training option ideal for personal home gyms.
Whether you're a beginner or a pro, you'll get great use out of these adjustable dumbbells. Easily change the weight from 5lbs (approx. 2.2kg) all the way up to 45lbs (approx. 20kg)
Each dumbbell in this set of 2 comes with a base weight plate to keep the discs in place. This gives you a convenient workout experience whether you use one dumbbell or two.
If quality and versatility are what you're after, these Powertrain Gen2 adjustable dumbbells won't disappoint. Get yours today!
Adjustable Dumbbells Specifications:

| | |
| --- | --- |
| Brand: | Powertrain |
| Min weight: | 2.2kg each |
| Max weight: | 20kg each |
| Total weight: | 40 kilograms |
| Weight settings: | 16 steps |
| Unit width: | 36cm |
| Construction: | ABS covered steel |
Contents:
2 x 20kg Adjustable Dumbbell
2 x Dumbbell holder
User Manual
sku: dmb-bf4-020-2
See Terms & Privacy for 30 day returns information.