Air Track 4m x 1m x 20cm Inflatable Tumbling Gymnastics Mat - Rainbow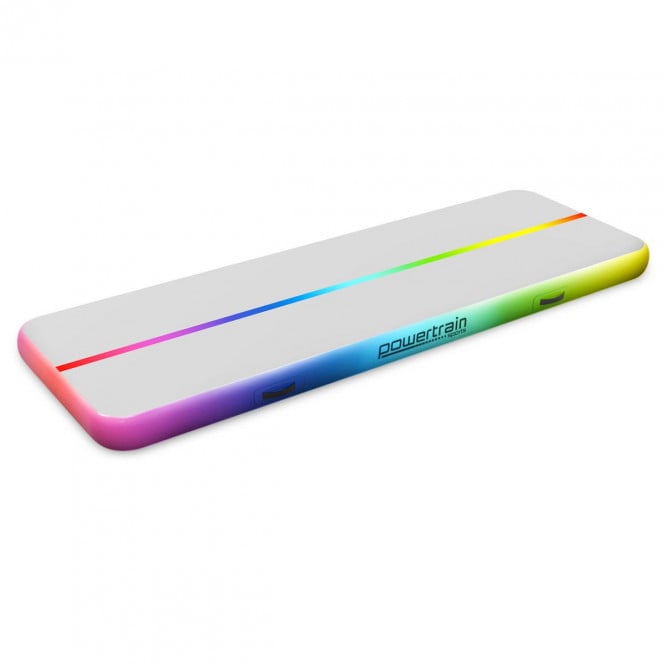 Stand out on the gymnastics floor with a rainbow air track from Powertrain Fitness!
With dimensions of 4m x 1m x 20cm, this colourful tumbling mat makes for a great training and landing platform. It's suitable for cheerleading, gymnastics, martial arts, yoga, and many other activities - including relaxing ones like floating on the pool!
The rainbow tumbling mat has a centre guideline so you can perform your moves precisely. It also has four carry handles, which make the air track easy to move and reposition around your home or gym.
Spend less time on setup and more time on practice. This air track inflates and deflates in minutes, and is compatible with both hand pumps and electric pumps (available separately) for your convenience.
Made of highly durable drop-stitch fabric and high-density PVC, this rainbow tumbling mat can withstand intense and regular training sessions. Plus, it has an EVA surface - so you can worry less about slipping during your routine.
You can adjust the pressure level for a softer or firmer track. This tumbling mat acts like a springboard at higher pressures, so you can get a boost for your jumps, split leaps, and other aerial tricks.
Finally, it's waterproof, compact, and easy to clean - making this air track ideal for both indoor and outdoor use. Training has never been this fun (and convenient)!
Features:
Inflatable Air Track Tumbling Mat
1000-denier double-wall PVC fabric (Drop stitch)
Maximum pressure: 10PSI/ 0.7BAR
Easy carry handles
Anti-slip and durable surface
Built-in valve
Length: 4m
Width: 1m
Thickness: 20cm
Contents:
1 x Air Track Inflatable Mat
sku: ifm-0401-rb
See Terms & Privacy for 30 day returns information.