Air Track Block 1m Square Inflatable Gymnastics Tumbling Mat with Pump - Blue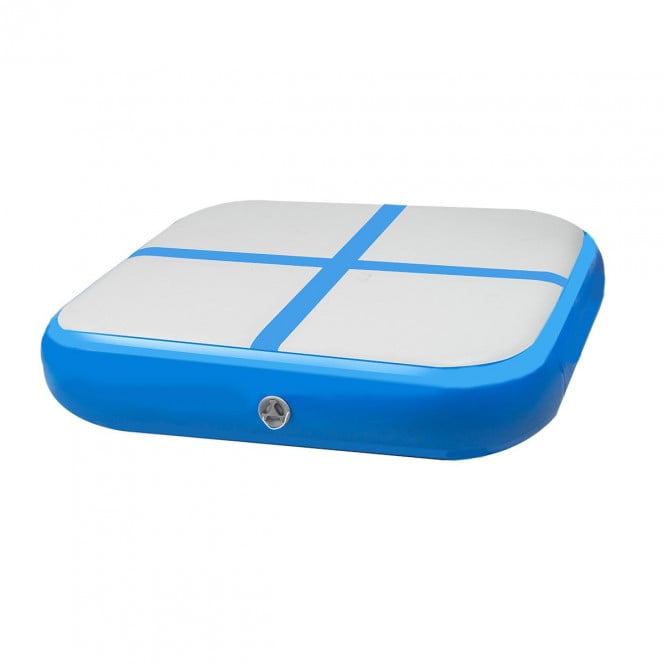 1 meter square air track mat - Blue
Ideal for gymnastics, martial arts, home fitness, and other sports activities, this square inflatable tumbling mat from Powertrain is sure to boost your training routine.
Lightweight and versatile, it can be used in gyms, fitness clubs, parks, and even inside your home. This gymnastics mat is made of double-wall PVC that guarantees airtightness while helping keep the mat's shape for longer compared to standard inflatables. The jumping surface is also made of anti-slip EVA for the best performance.
Measuring 1m x 1m x 20cm, this inflatable tumbling mat supports the body at low impact but provides fantastic rebound for practising jumps and split leaps. It's also easy to carry and move around even when it's fully inflated.
This Powertrain air block is a great alternative to foam tumbling blocks that take a lot of space and lose their firmness over time. Inflatable mats provide gentle support to minimise your chance of overuse injuries, even with repeated training.
A foot pump is included with each mat for easy inflation and deflation.
Features:
Inflatable Air Track Tumbling Mat
1000-denier double-wall PVC fabric (Drop stitch)
Maximum pressure: 10PSI/ 0.7BAR
Anti-slip and durable surface
Built-in valve
Length: 1m
Width: 1m
Thickness: 20cm
Contents:
1x Inflatable Air Block Tumbling Mat
1x Foot Pump
sku: ifm-xbo-101-gbu
See Terms & Privacy for 30 day returns information.