Air Track Powertrain 3m x 1m Inflatable Tumbling Mat Gymnastics - Grey Black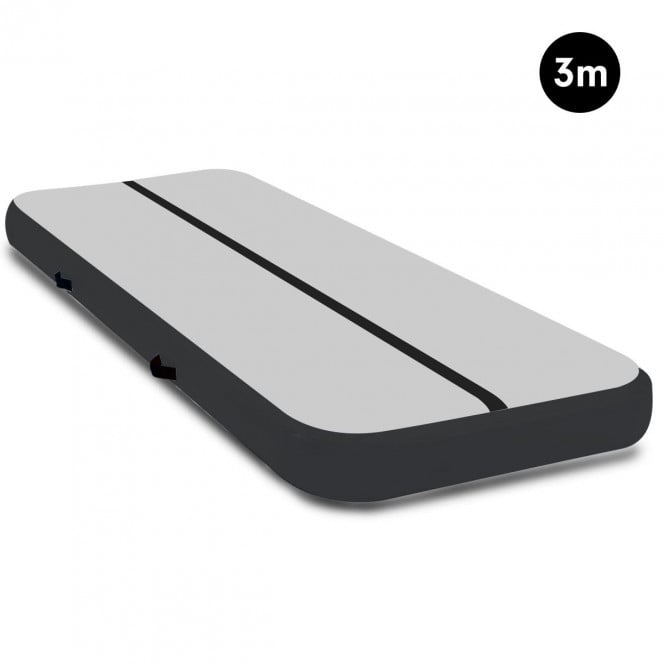 This inflatable tumbling mat is perfect for gymnastics, martial arts, and many other high-intensity sports.
It provides a cushioned and supportive surface so you can train and improve your skills in a safe environment, no matter where you practice. Measuring 3m x 1m x 20cm, it offers enough space for various activities while still being lightweight enough to move around. It also has four handles for easy carrying.
This air track is made of highly durable, 1000-denier double-wall fabric that keeps the mat airtight and helps maintain its shape compared to traditional inflatables and foam training equipment. The mat also has a centre guideline to help you execute your moves precisely.
The EVA surface prevents slipping while also providing excellent support and rebound. This means you get an added boost during jumps and split leaps while also being protected from repetitive strain injuries.
The built-in valve makes this air track gymnastics mat easy to inflate and deflate, either with a hand pump or an electric one (available separately). Once deflated, the mat folds into a very small size ideal for storage or transportation.
For worry-free practice, nothing beats this multi-purpose air track from Powertrain!
Features:
Inflatable Air Track Tumbling Mat
1000-denier double-wall PVC fabric (Drop stitch)
Maximum pressure: 10PSI/ 0.7BAR
Easy carry handles
Anti-slip and durable surface
Built-in valve
Length: 3m
Width: 1m
Thickness: 20cm
Contents:
1x 3m Air Track Inflatable Mat
sku: ifm-0301-gybk
See Terms & Privacy for 30 day returns information.