Air Track Powertrain 4m x 1m Inflatable Tumbling Gymnastics Mat - Blue White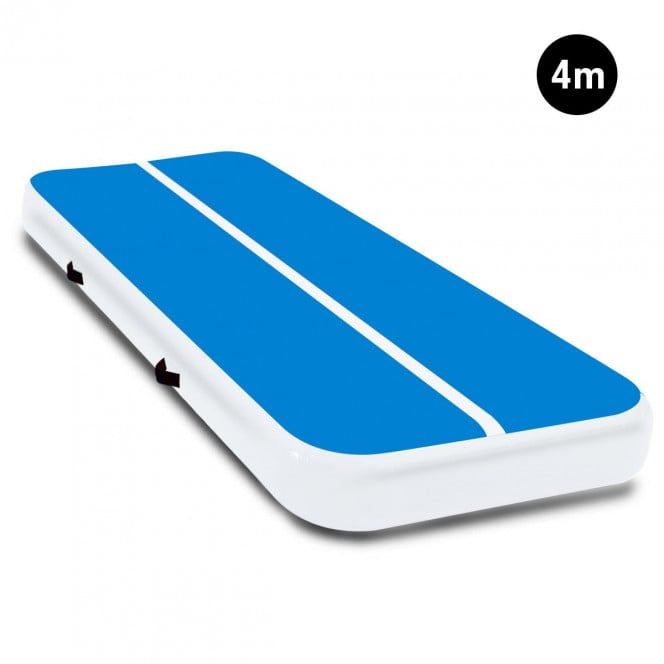 For cheerleading, gymnastics, freerunning, and other awesome sports, nothing beats this inflatable tumbling mat from Powertrain.
It provides a cushioned and supportive surface so you can hone your skills with confidence and ease. This tumbling mat measures 4m x 1m x 20cm when inflated and has four carry handles around the sides for easy repositioning around your home or gym.
You can expect to get your money's worth with this air track as it's made of double-wall fabric and 1.2mm thick PVC. These premium materials provide the best airtightness, durability, and safety for your day-to-day training. The tumbling surface itself is made of anti-slip EVA with a centre guideline to help you perform moves precisely.
You can adjust the air track's pressure for a softer or bigger bounce depending on your needs. Both manual and electric pumps (available separately) can be used to inflate the mat in just a few minutes. Deflation is also quick and easy, and you can roll up the tumbling mat afterwards for storage or transportation.
Train safely anywhere, any time. Get your Powertrain gymnastics air track today!
Features:
Inflatable Air Track Tumbling Mat
1000-denier double-wall PVC fabric (Drop stitch)
Maximum pressure: 10PSI/ 0.7BAR
Easy carry handles
Anti-slip and durable surface
Built-in valve
Length: 4m
Width: 1m
Thickness: 20cm
Contents:
sku: ifm-0401-buwh
See Terms & Privacy for 30 day returns information.