Air Track Powertrain 4m x 2m Gymnastics Mat Tumbling Exercise - Grey Blue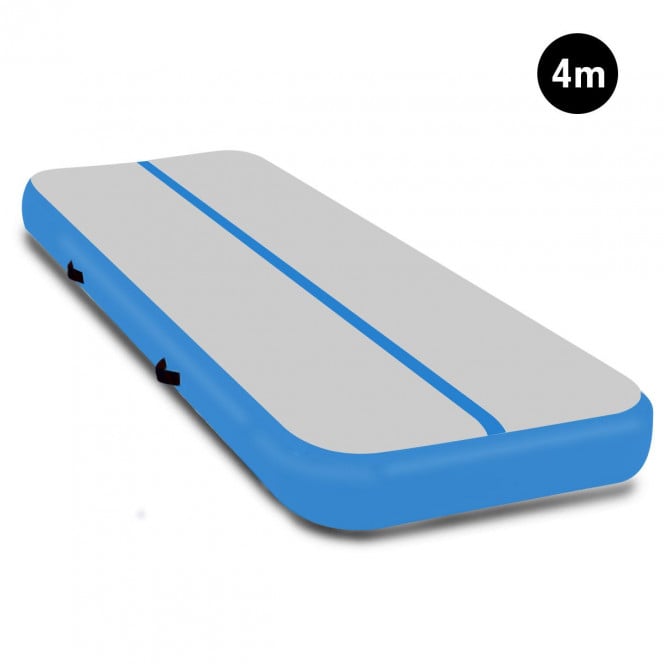 Ideal for gymnastics, cheerleading, martial arts, and other high-performance sports, this multi-purpose air track is the equipment of choice for adventurous athletes.
This inflatable gymnastics mat measures 4m long x 2m wide x 20cm thick when inflated but is also portable and compact, allowing you to take it to and from your home, school, training facility, or gym. Its safe and cushioned surface lets you perform a variety of gymnastics skills and tricks, as well as powerful aerial flips that require a soft spot for landing. And the extra-wide surface provides added protection, especially for newbie gymnasts.
Our high-quality air tracks are constructed from double-wall fabric and high-density PVC tarpaulin. The EVA surface and guideline allows you to land your jumps cleanly while staying aligned with the centre of the mat.
This gymnastics mat is UV-resistant and wear-resistant. It can be used both for indoor and outdoor training, and is also waterproof so you can use it at the pool or beach if you wish. It also has four handles for easy moving and repositioning.
You can set the air pressure up to 10PSI or 0.7BAR for a high, springboard-like bounce. Inflating this gymnastics mat takes only a few minutes, and you can use either a hand pump or electric pump (available separately).
Level up your strength and flexibility today with Powertrain's inflatable air tracks!
Features:
Inflatable Air Track Tumbling Mat
1000-denier double-wall PVC fabric (Drop stitch)
Maximum pressure: 10PSI/ 0.7BAR
Easy carry handles
Anti-slip and durable surface
Built-in valve
Length: 4m
Width: 2m
Thickness: 20cm
Contents:
1x 4m Air Track Inflatable Mat
sku: ifm-0402-gybu
See Terms & Privacy for 30 day returns information.