Air Track Powertrain 4m x 2m Gymnastics Mat Tumbling Exercise - Grey Green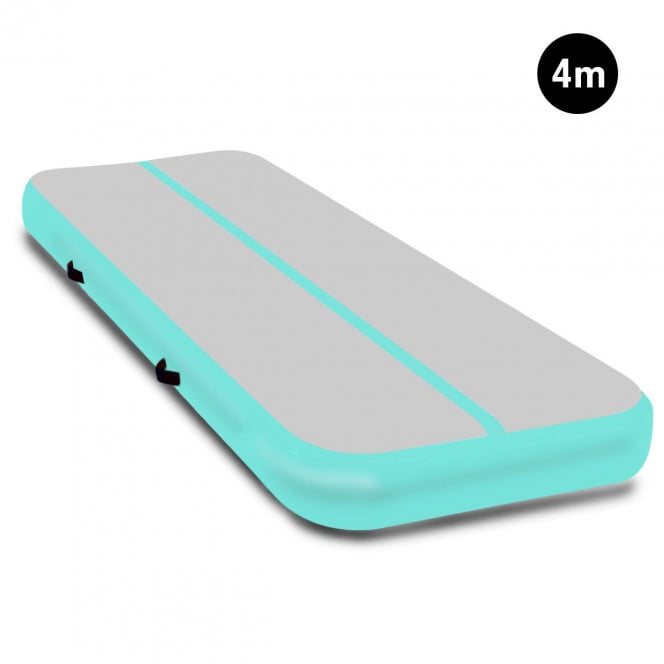 This wide Powertrain air track is all you need to practise awesome flips and tricks at home. It comes in a bright colour that's guaranteed to stand out on any gymnastics floor!
Ideal for gymnastics, cheerleading, martial arts, and more, this high-quality air track is one of the most versatile pieces of equipment you can own. It measures 4m x 2m, with a thickness of 20cm for more cushion.
Made of drop-stitch material and PVC, this air track is guaranteed to be smooth, durable, and long-lasting. It has an anti-slip surface and centre line to help you perform each move safely and efficiently.
This gymnastics mat is portable and lightweight, allowing you to take your training home or even outdoors. It's easy to clean and store, and can be deflated to save space when not in use. It also has four carry handles for easy moving and repositioning when it's fully inflated.
The air track is soft and supportive at low pressure but acts like a springboard at maximum firmness. You can adjust the air pressure up to 10PSI (0.7BAR) to suit your training preferences. Furthermore, this air track helps cushion the impact on your ankles and joints, allowing you to practise over and over with less chance of injuries.
You can use either a manual hand pump or electric pump (available separately) to inflate the gymnastics mat. The closed valve prevents air from leaking out so you can enjoy uninterrupted training sessions for longer.
Versatile, space-saving, and portable, this Powertrain air track is sure to become your go-to for day-to-day training!
Features:
Inflatable Air Track Tumbling Mat
1000-denier double-wall PVC fabric (Drop stitch)
Maximum pressure: 10PSI/ 0.7BAR
Easy carry handles
Anti-slip and durable surface
Built-in valve
Length: 4m
Width: 2m
Thickness: 20cm
Contents:
sku: ifm-0402-gygn
See Terms & Privacy for 30 day returns information.