Air Track Powertrain 5m x 1m Inflatable Tumbling Mat Gymnastics - Grey Black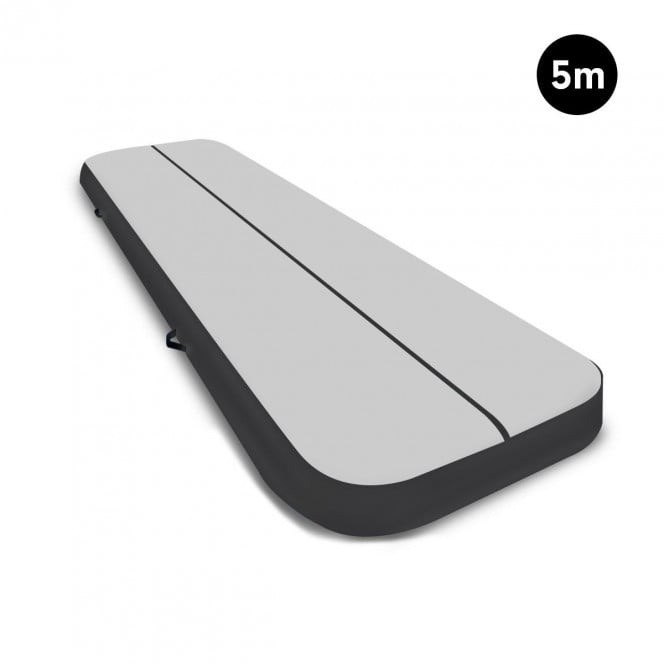 This Powertrain inflatable gymnastics mat is lightweight and compact - the perfect companion for athletes on the go.
With dimensions of 5m x 1m x 20cm, it's just the right length for practising tumbling, taekwondo, parkour, yoga, and other activities where you'd want a safe and stable platform for landing.
It has a centre guideline to help you perform moves precisely, so you can show your best performance every time. This gymnastics mat also has four carry handles that make it easy to reposition around your home or gym.
This air track has a built-in valve that makes it easy to inflate and deflate. It's compatible with both hand pumps and electric pumps (available separately) and you can have a fully inflated, ready-to-use gymnastics platform in just a few minutes.
The gymnastics mat is made of drop-stitch fabric and 1.2mm thick PVC for better airtightness and durability. It also has an anti-slip EVA surface for safer and more efficient training. This mat's high-quality construction ensures you'll get the best experience and value for money.
At 20cm thick, this air track is soft on the body at lower pressures but acts like a springboard at higher ones. You can adjust the pressure level to find the right bounce for your training needs. This mat also allows you to practise moves over and over, with less chance of overuse injuries.
This gymnastics mat deflates into a compact size ideal for storage and transportation. It's one of the most versatile and space-saving pieces of equipment you can own!
Features:
Inflatable Air Track Tumbling Mat
1000-denier double-wall PVC fabric (Drop stitch)
Maximum pressure: 10PSI/ 0.7BAR
Easy carry handles
Anti slip and durable surface
Built-in valve
Length: 5m
Width: 1m
Thickness: 20cm
Contents:
1x 5m Air Track Inflatable Mat
sku: ifm-0501-gybk
See Terms & Privacy for 30 day returns information.