Air Track Powertrain 6m x 1m Inflatable Tumbling Gymnastics Mat - Blue White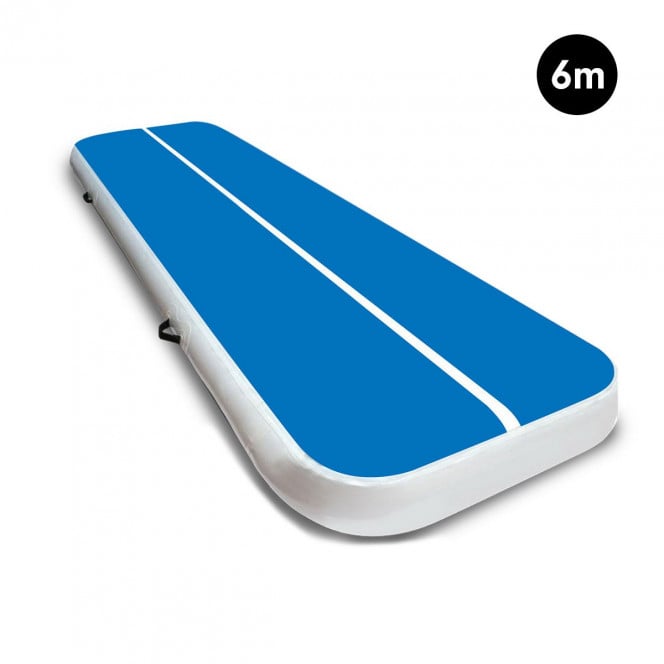 At home or in the gym, level up your training with a multi-purpose air track from Powertrain.
This air track measures 6m x 1m x 20cm and is ideal for a variety of sports activities: taekwondo, cheerleading, parkour, floor exercises, freerunning, and so much more. It's compact and small in storage, making it a great option for home training, school competitions, or even athletes on the go.
This gymnastics mat offers plenty of space for tumbling passes and intermediate to advanced tricks. Its centre line helps you perform your moves precisely, so you can train comfortably and confidently at the same time. Plus, the four carry handles allow for easy repositioning of this air track.
Inflation takes only a few minutes, letting you spend less time on setup and more time on training. The air track is compatible with both hand pumps and electric pumps (available separately), so you can choose the pump that works best for your needs.
Our gymnastics mats are made of drop-stitch fabric covered with high-density PVC for better airtightness and durability. They also feature an anti-slip EVA tumbling surface for safer and more efficient training.
Practise with no worries - this gymnastics mat is soft on the body so you can jump, tumble, or stretch as long as you want.
After use, simply deflate the air track and roll it up for storage or transportation. It's that easy!
Features:
Inflatable Air Track Gymnastics Mat
1000-denier double-wall PVC fabric (Drop stitch)
Maximum pressure: 10PSI/ 0.7BAR
Easy carry handles
Anti-slip and durable surface
Built-in valve
Length: 6m
Width: 1m
Thickness: 20cm
Contents:
1 x Air Track Inflatable Mat
sku: ifm-0601-buwh
See Terms & Privacy for 30 day returns information.