Air Track Powertrain 6m x 1m x 20cm Inflatable Gymnastics Tumbling Mat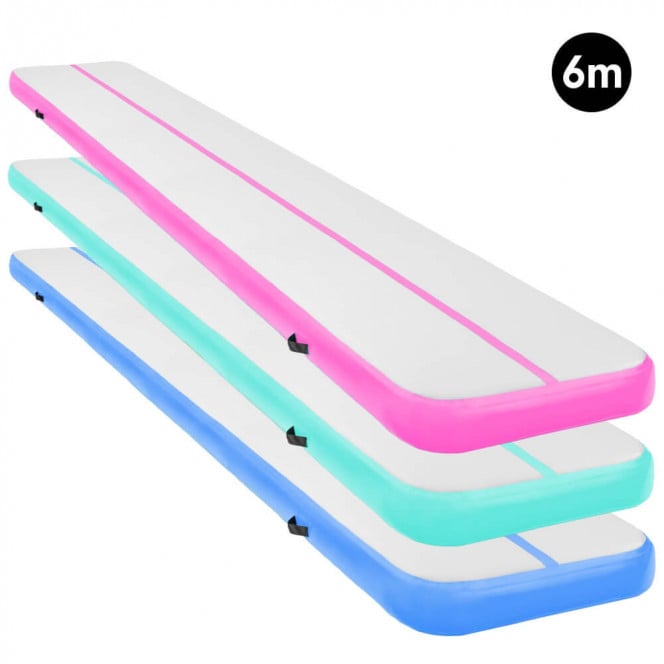 6 meter air track gymnastics mat, 1 meter wide, 20cm deep
Give your training a boost with a multi-purpose air track from Powertrain!
This inflatable tumbling mat measures 6m x 1m x 20cm. It's ideal for gymnastics, martial arts, cheerleading, floor exercises, and other activities that require a safe and cushioned landing platform. It's also portable and easy to store, so you can train both at the gym and your home.
The length of this air track makes it perfect for floor exercises and advanced tumbling passes. A centre guideline helps you stay aligned for a cleaner and more precise performance. The mat also has four carry handles so you can move it around easily when it's fully inflated.
Inflation takes only a few minutes and can be done with either a manual hand pump or an electric one (available separately). This means you can spend more time training and less time setting up.
The air track is constructed with high-quality materials, such as double-wall fabric, high-density PVC, and an anti-slip EVA surface. These materials give the inflatable mat better airtightness and durability compared to traditional inflatables.
By playing around with the pressure level, you can achieve a softer or a bigger bounce to suit your training preferences. The gymnastics mat also minimises impact upon landing, lessening the risk of overuse injuries.
Safe, effective, and versatile, this air track is a must-have for the dedicated gymnast or martial artist!
Features:
Inflatable Air Track Gymnastics Mat
1000-denier double-wall PVC fabric (Drop stitch)
Maximum pressure: 10PSI/ 0.7BAR
Easy carry handles
Anti slip and durable surface
Built-in valve
Length: 6m
Width: 1m
Thickness: 20cm
Contents:
1 x Air Track Inflatable Mat
sku: ifm-xbo-006
See Terms & Privacy for 30 day returns information.