Air Track Powertrain 6m x 2m Gymnastics Mat Tumbling Exercise - Blue White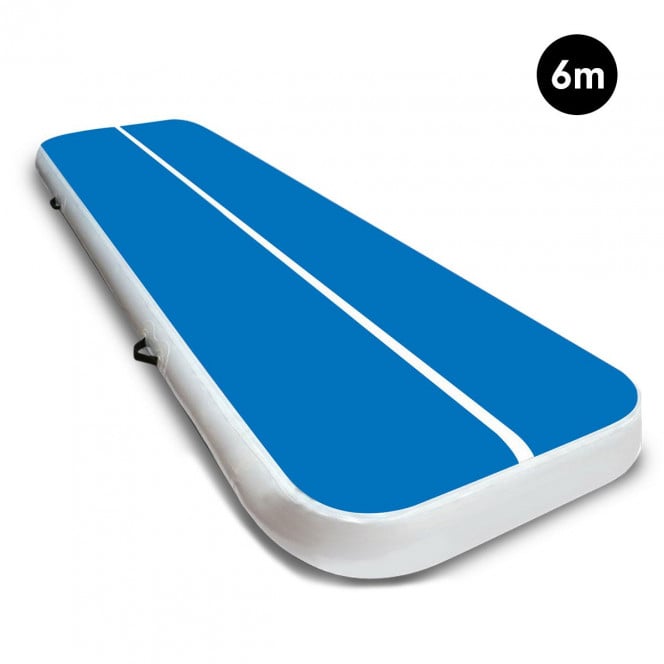 Powertrain Blue-White 6x2 meter, 20cm Air track tumbling floor mat
Train anywhere, any time with Powertrain's portable, multi-purpose air track!
This inflatable gymnastics mat measures 6m long x 2m wide x 20cm deep and is perfect for practising advanced skills and routines. It's the perfect training partner for gymnasts, cheerleaders, freerunners, and martial artists who want a safe way to perfect their routines.
Its extra-wide surface is ideal for practising advanced gymnastics and cheerleading routines. The air track is also suitable for martial arts, parkour, tricking, and other high-intensity sports that require a lot of room to practise.
Measuring 6m long x 2m wide x 20cm deep, this air track reduces your fear level and gives you the confidence to perform awesome tricks. It's made of double-wall fabric, high-density PVC, and an anti-slip EVA surface for improved airtightness, durability, and safety. It's waterproof and UV-resistant as well, so you can use it both indoors and outdoors.
The mat has four carry handles for easy repositioning and is convenient to transport and store when deflated. This means you can bring your training with you, whether it's at your home, school, or gym.
You can use this air track as a gymnastics crash mat or a springboard, depending on the amount of air you put in. The firmer the track, the higher the bounce - perfect for practising cool jumps and stunts. It also has a centre guideline to divide the training area and help with your alignment. Plus, this mat provides cushion and support, so you can train repeatedly with less chance of overuse injuries.
Inflation takes only a few minutes and can be done with either a hand pump or an electric one (available separately). After practice, simply deflate the mat and roll - or keep it inflated for ready-to-go action the next day.
From young gymnasts to pro athletes, everyone is sure to enjoy training on this Powertrain air track!
Features:
Inflatable Air Track Tumbling Mat
1000-denier double-wall PVC fabric (Drop stitch)
Maximum pressure: 10PSI/ 0.7BAR
Easy carry handles
Anti-slip and durable surface
Built-in valve
Length: 6m
Width: 2m
Thickness: 20cm
Contents:
sku: ifm-0602-buwh
See Terms & Privacy for 30 day returns information.