Air Track Powertrain 6m x 2m Gymnastics Mat Tumbling Exercise - Grey Blue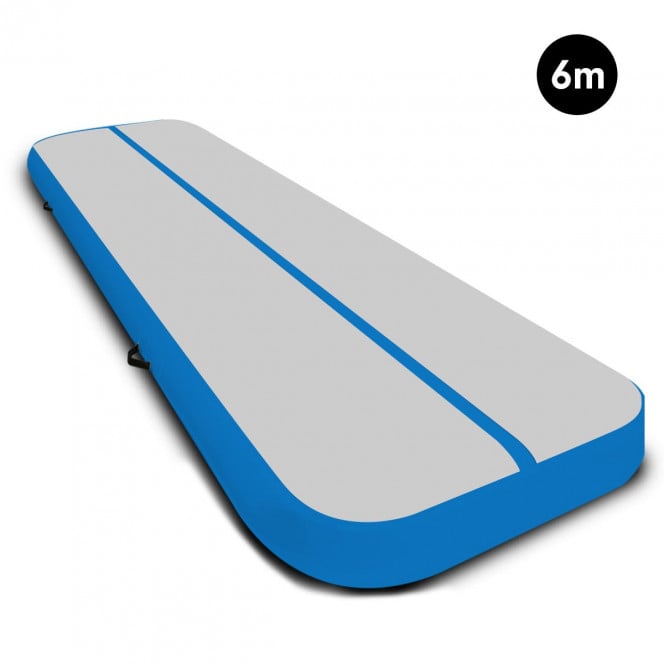 Powertrain Blue 6x2 meter, 20cm Air track tumbling floor mat
Train with confidence and ease on this extra-wide Powertrain air track! It measures 6m x 2m x 20cm and is just the right size for perfecting intermediate to advanced skills.
This inflatable mat is ideal for gymnastics, cheerleading, martial arts, and other high-intensity sports. It's made of durable drop-stitch fabric and PVC, with an anti-slip EVA surface to ensure safe and efficient practice. A guideline runs along the middle of the mat to help with form and alignment.
Lightweight and portable, this air track is easy to transport between locations. It can also be used both indoors and outdoors, and is waterproof for convenient cleaning. Four carry handles located on the sides make it easy to move and reposition as well.
At 20cm thick, this air track is easy on the body at low pressure but acts like a springboard at maximum firmness. It cushions the impact on your joints, allowing you to train repeatedly with less chance of injuries.
Inflating the mat takes only a few minutes. You can use either a hand pump or an electric pump (not included), and the airtight valve ensures the gymnastics mat will maintain its pressure for longer.
After use, simply deflate the air track, roll it up, and store - it's that easy!
Features:
Inflatable Air Track Tumbling Mat
1000-denier double-wall PVC fabric (Drop stitch)
Maximum pressure: 10PSI/ 0.7BAR
Easy carry handles
Anti-slip and durable surface
Built-in valve
Length: 6m
Width: 2m
Thickness: 20cm
Contents:
sku: ifm-0602-gybu
See Terms & Privacy for 30 day returns information.