Air Track Powertrain 8m x 1m Inflatable Gymnastics Mat Tumbling - Grey Blue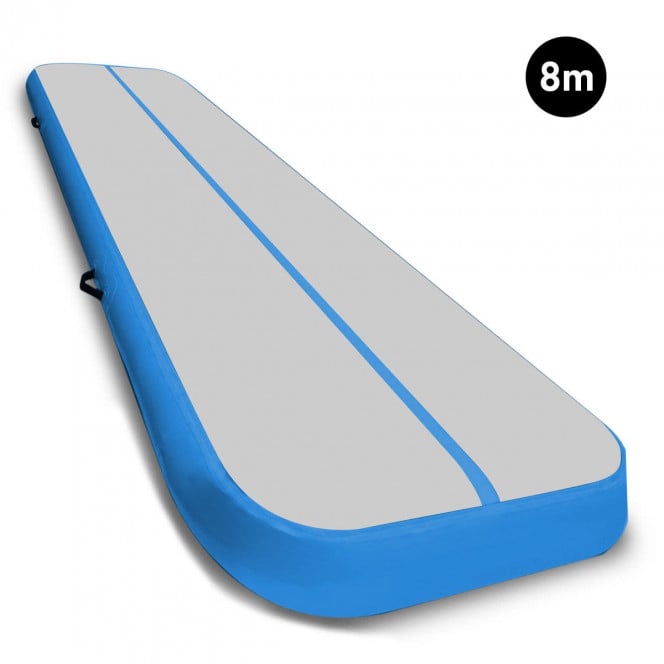 XL Blue Powertrain 8 meter x 1 meter x 20cm Air Track Mat
Boost your speed, agility, and overall fitness on this 8-meter-long air track gymnastics mat.
Suitable for both indoor and outdoor use, this versatile piece of training equipment offers plenty of space for high-intensity sports, including cheerleading, floor exercises, martial arts tricking, and so much more. It's the equipment of choice for schools, gyms, fitness centres, and competition venues looking for a lightweight and portable alternative to conventional foam mats and springboards.
Inflating the gymnastics mat takes only a few minutes, and you can use either a hand pump or an electric pump (available separately). Its airtight material ensures that this air track will remain firm and bouncy for hours, so you don't have to interrupt your training.
This air track is pressure-adjustable, allowing for either a soft or big bounce. Its length makes it ideal for tumbling passes, connected jumps, and other advanced routines. The anti-slip surface also features a centre line for better alignment during training.
Made of durable double-wall material and high-density PVC, this gymnastics mat is guaranteed to withstand intense and regular training sessions. It's soft on the body as well, which helps prevent injuries.
With its compact storage size and convenient features, this air track is sure to become one of your favourite pieces of equipment. Get yours today!
Features:
Inflatable Air Track Mat
1000-denier double-wall PVC fabric (Drop stitch)
Maximum pressure: 10PSI/ 0.7BAR
Easy carry handles
Anti-slip and durable surface
Built-in valve
Length: 8m
Width: 1m
Thickness: 20cm
Contents:
1 x Air Track Inflatable Mat
sku: ifm-0801-gybu
See Terms & Privacy for 30 day returns information.