Air Track Powertrain 8m x 1m Inflatable Tumbling Gymnastics Mat - Blue White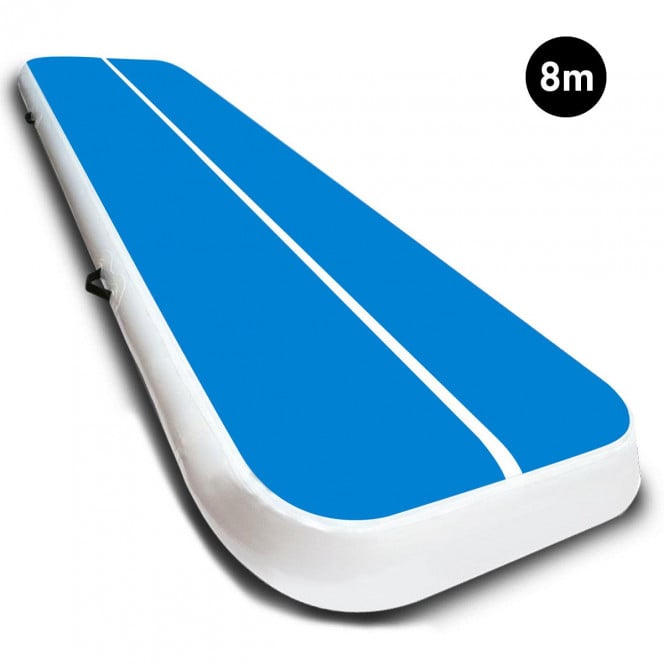 XL Blue Powertrain 8 meter x 1 meter x 20cm Air track tumbling mat
For the serious cheerleader or gymnast nothing beats this 8-meter-long Powertrain air track!
The extra-long surface allows you to practise tough and tricky routines while keeping you safe throughout training. This air track is lightweight and small in storage, making it suitable not just for home use but also for schools, gyms, fitness centres, competition venues, and more.
It's not just for gymnastics! This multi-purpose air track can be used for other sports such as taekwondo, cheerleading, parkour, and even yoga. You can even combine multiple air tracks to create a unique setup. And with four carry handles, repositioning this mat is no problem even with its added length.
This air track is safe, supportive, and suitable for both beginner and professional athletes. It's made of drop-stitch fabric and high-density PVC for improved airtightness and durability compared to traditional training equipment. The air track also features an anti-slip EVA surface with a centre line for better alignment.
UV-proof and wear-proof, this gymnastics mat is suitable for use both indoors and outdoors. (Make sure to check the ground for any rocks or sharp objects before using the mat outdoors.) The airtight valve and PVC cover also ensure that the gymnastics mat stays firm and bouncy for longer before you need to top it up.
This gymnastics mat can be inflated in minutes so you can get to training straight away. It's compatible with both manual hand pumps and electric pumps (available separately) for your convenience.
What are you waiting for? Step up your training and get Powertrain's longest air track yet today!
Features:
Inflatable Air Track Gymnastics Mat
1000-denier double-wall PVC fabric (Drop stitch)
Maximum pressure: 10PSI/ 0.7BAR
Easy carry handles
Anti-slip and durable surface
Built-in valve
Length: 8m
Width: 1m
Thickness: 20cm
Contents:
1 x Air Track Inflatable Mat
sku: ifm-0801-buwh
See Terms & Privacy for 30 day returns information.