Powertrain K100 vs MX1: Which Budget-Friendly Treadmill Should I Get?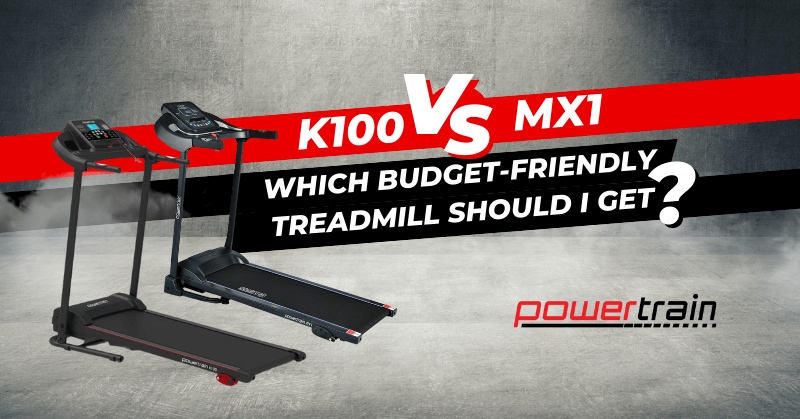 Let's be honest: it's not easy to maintain a running routine — especially if you mostly run outdoors. It's a good thing there are treadmills!
Whether you want to train for a marathon, reach your daily step count or just get a workout in while watching TV in the comfort of your own home, a treadmill is definitely the way to go.
However, these cardio machines do come at a price. The good news is, there are plenty of budget-friendly treadmills on the market — including the Powertrain K100 and MX1.
The K100 is an affordable treadmill that is suitable for new fitness seekers or anyone who wants to maintain a consistent workout routine. MX1, on the other hand, is your ideal easy-to-use and sleek treadmill for walking and jogging alike. You can see that each treadmill has its own strengths, but which one should you choose for your home gym?
Let's compare!
Running Deck & Weight Capacity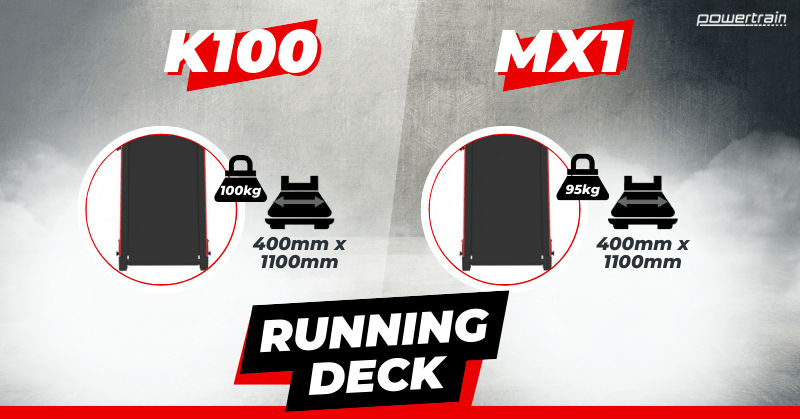 The K100's running deck measures 400mm x 1100mm, making it ideal for walking and jogging. It can be included for a more effective workout and it even comes with 12 preset programs that can help you switch up your training.
This treadmill can support users up to 100kg so it's definitely reliable.
Like the K100, the MX1 also has a running deck of 400mm x 1100m and 12 preset programs to help vary your workouts.
However, the MX1 can only carry users up to 95kg. With only a small 5kg difference, these treadmills are head to head when it comes to the running deck and capacity.
Speed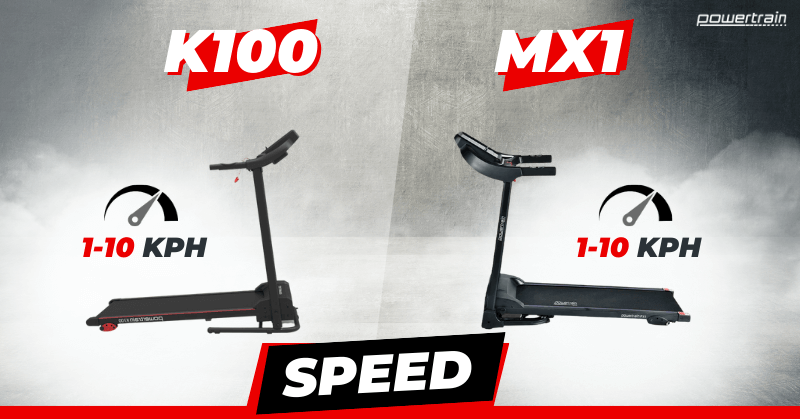 As for the speed range, both the K100 and MX1 have a range of 1 to 10 kilometres per hour.
These are pretty good top speeds on these treadmills, considering that the recommended distance for an hour of running is five to six kilometres.
Incline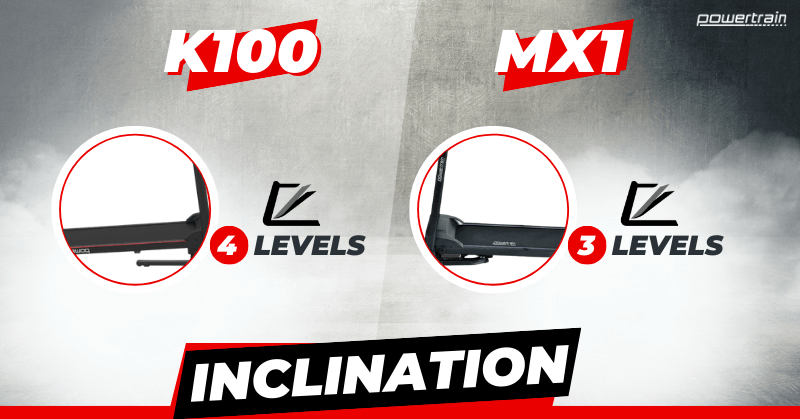 Adding to their differences, these two treadmills also differ in their manual inclination levels — with the MX1 having three levels and the K100 having four levels.
This means you have more incline options with the K100 to closely simulate running up quite a hill. If you don't need as many incline options, the MX1 has got you covered.
Console & Display
The K100 comes with a 5-inch LCD console perfect for displaying your time, speed, distance, calories and pulse while on the machine. It has a simple interface that allows you to start working out in a matter of seconds!
And the same goes for the MX1. Not only is the treadmill easy to use, but it also has an LED display screen that lets you see your speed, running time, distance, heart rate and calories burned at a glance.
What makes the K100 unique is the heart rate guide printed next to the console. This makes it easier to reach your target pulse and make sure that you're staying in the safe heart rate zone while running. Additionally, the K100 has speed preset buttons that allow you to cycle between different speeds efficiently. Great for interval training!
On the other hand, the MX1 treadmill gives you the ability to play your own music via the USB and AUX input. It even has volume controls, so you can play your pump-up playlist as loud (or quiet) as you want. And the speed cycle button makes it easy to switch between speeds when you're doing an interval running workout.
Still don't know which one to pick? Maybe this summary table will help:
Powertrain K100 vs Powertrain MX1: Summary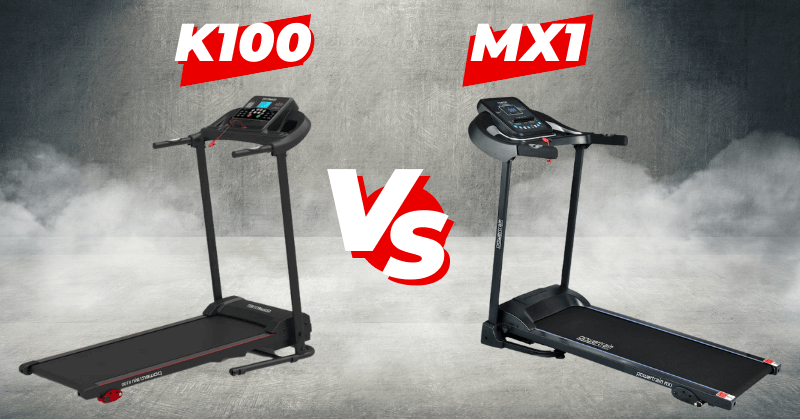 | K100 | MX1 |
| --- | --- |
| Price: $509 | Price: $599 |
| 12 preset programs | 12 preset programs |
| Speed Range: 1 to 10 kph | Speed Range: 1 to 10 kph |
| 4 manual incline settings | 3 manual incline settings |
| Heart Rate Guide | Media Player with Volume Buttons |
| 5-inch LED console | Blue LED console |
| Speed Preset Buttons | Speed Cycle Button |
| Beverage Holder | Beverage Holder |
| Tablet Holder | Tablet Holder |
When it comes down to it these budget-friendly treadmills have a lot in common — so it really just boils down to your own preferences!
Want a heart rate sensor to help you meet your targets Go with the K100! Want a treadmill that lets you play your own music? You might want to spend a bit more and get the MX1. At the end of the day, both treadmills are great for home gym users who want a reliable cardio machine for busy (or rainy) days.
Each treadmill has its own distinct features, so it's really up to you to choose which one is right for your home gym.
To learn more about these treadmills, check out these links:
Powertrain K100 Treadmill
$509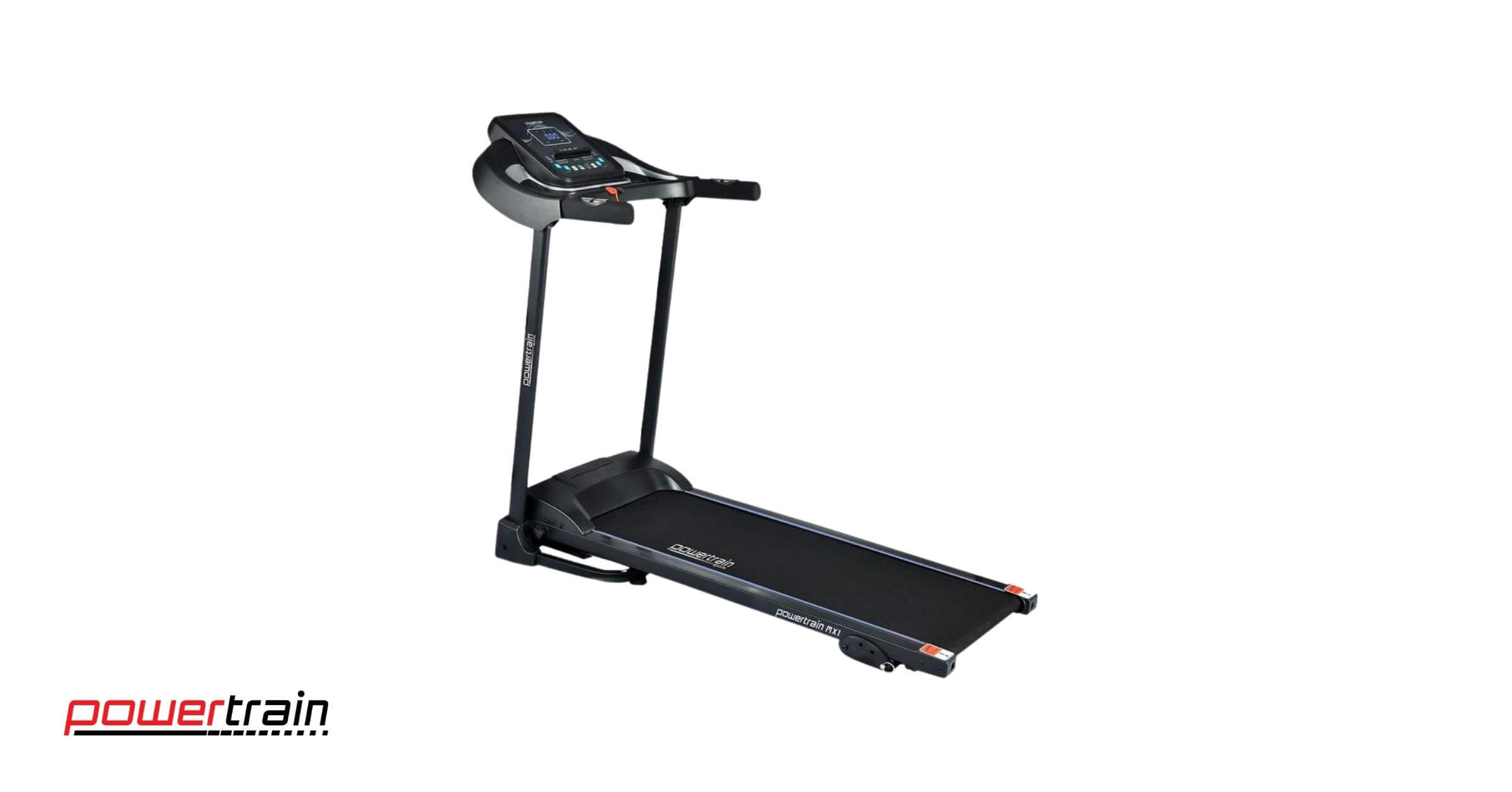 Powertrain MX1 Treadmill
$599
You May Also Like: