Powertrain MX1 Electric Treadmill with Incline and 12 Programs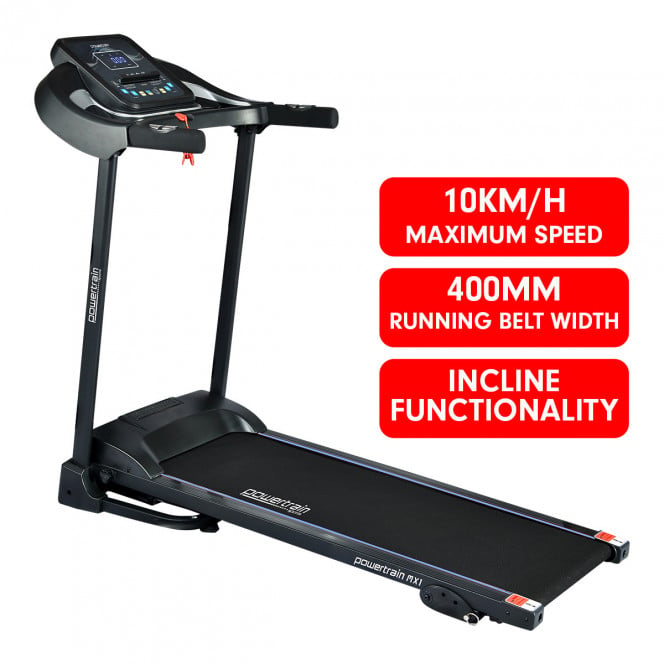 Powertrain Electric Treadmill Model MX-1 Details:
Make exercise a part of your daily routine with the Powertrain MX1 home treadmill. This affordable cardio machine features a sleek, robust design suited to all fitness seekers. And with its foldable frame, this treadmill will make for a great addition to your home gym setup.
Featuring multiple speed and incline levels, the MX1 treadmill is ideal for walking and jogging alike. It's equipped with 12 programs and 3 modes, letting you switch up your cardio routine any time you want.
The console is clear and easy to use, with a quick start/stop button plus speed and volume controls. The LED screen lets you see your speed, running time, distance, heart rate, and calories burned at a glance.
This home treadmill also has USB and MP3 inputs plus built-in speakers to keep you entertained during long workouts.
If you're looking to lose weight, get fit or build lower body strength on a budget, look no further than the Powertrain MX1 treadmill!
Treadmill Features:
Horsepower: 1.0 hp DC Motor
Speed range: 1.0-10.0km/h
Blue LED Displays Calories, Time, Speed & Distance
12 programs, 3 modes with MP3, USB input
Running area: 400mm x 1100mm
Max user weight: 95kg
Space-saving design
Soft grip handles with pulse
Easy to assemble
Size - 1490 x 645 x 1210mm (approx.)
Treadmill Contents:
sku: tml-ljj-mx1
See Terms & Privacy for 30 day returns information.