Powertrain Adjustable Weight Bench Home Gym Bench Press - 302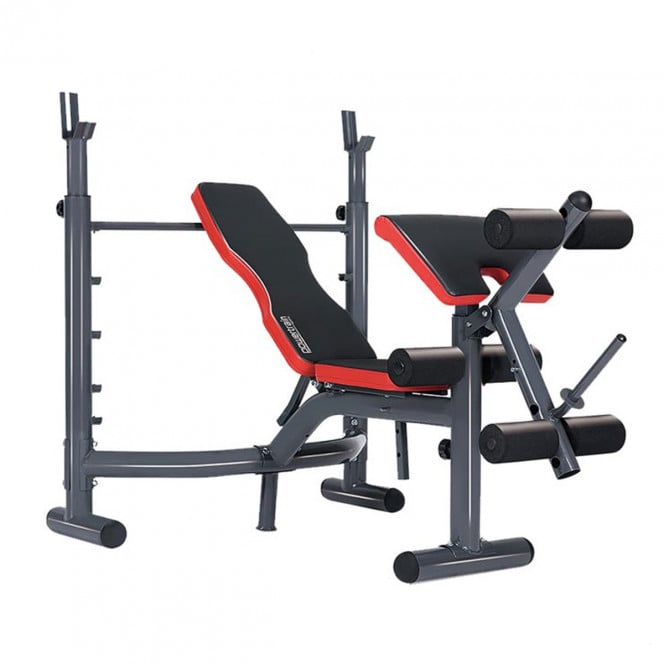 Tone both your upper and lower body with the Powertrain 302 adjustable weight bench home gym. This all-in-one exercise machine is low on cost, not features, and is perfect for doing efficient ab, arm, and leg workouts.
With a max user weight of 150kg, this adjustable weight bench can support everyone from novice lifters to pros. The backrest has 5 incline/decline settings and can quickly be raised or lowered down using the support bar depending on your workout preferences. This is ideal for sit-ups, twists, and other abdominal exercises that will strengthen your core and back.
The home gym weight bench has a preacher curl pad for working your biceps PLUS a leg extension attachment for stronger quads and hamstrings. You can also load a few weight plates onto the holder for a more intense leg workout.
Above the gym bench is a bench press rack, which will keep your barbell handy especially if you often do chest exercises to bulk up.
Additional highlights include high-quality padding for added comfort and a steel main frame that's 1.5 times thicker than that of most other weight benches.
With its attractive price and versatile features, this Powertrain home gym weight bench is definitely a must-have piece!
Features:
Upper and Lower Body Workout
Preachers curl station
Powder Coated Steel Construction
Strength Training and Toning
Multi-Level Incline
Multi bar level height Adjustments
Leg Curls and Extensions
Dimensions: 165 x 45 x 125cm
Contents:
1 x Multi-Function weight bench
Instructions Manual
sku: wbd-302
See Terms & Privacy for 30 day returns information.