Powertrain Foldable Rowing Machine Magnetic Resistance RW-H02 - Red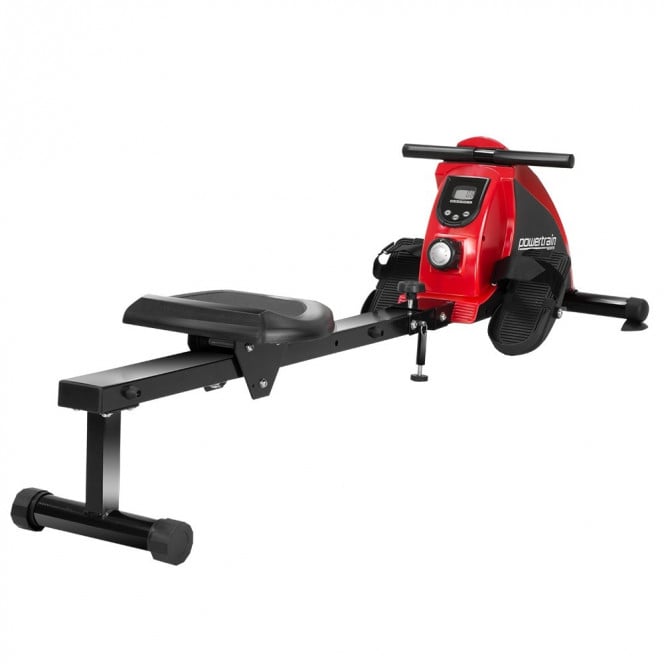 Row your way to a fitter bod with this foldable rowing machine from Powertrain!
Built with commercial quality in mind, this rower has everything you need for a low-impact, high-intensity cardio workout. It will help you burn calories, build endurance, and strengthen your muscles (including your arms, legs, and core).
The rowing machine comes with a contoured seat for maximum comfort, plus a non-slip pull bar for continuous workouts. The pulling cord is highly durable, ensuring a smooth experience for every user.
Aside from full-body rowing, this machine can also be used for standalone arm exercises like bicep curls and bent-over rows. Simply stand over the unit and use the cable like a resistance band for an effective conditioning workout. This rower also has 8 levels of tension, allowing you to set the right intensity level depending on your capacity.
The foot pads with adjustable straps keep your feet snugly in place - so no worries about sliding or slipping.
This Powertrain rowing machine also has an LCD monitor and on-board computer that lets you set various targets based on time, number of rows, or calories burned. Beat your personal record and get closer to your fitness goals!
Done with your workout? Simply fold the rowing machine and store it away to free up more space in your living room, garage, or home gym.
Compact and versatile, this rowing machine is perfect for maintaining an at-home cardio routine. Take the first step towards a healthier you with Powertrain's range of home gym equipment!
Features:
Computer: Scan, Count, Time, Total Count, Calories
Dimensions: 179L x 54W x 47H cm
Large, comfortable saddle
Adjustable tension resistance: 1-8 levels
New hi-tech magnetic brake system
Fold for easy storage
Flywheel: 6kg
Max. User Weight: 120kg
Foldable for easy storage
Packing Size: 106 x 30.5 x 47.5cm
Contents:
1 x Powertrain Rowing Machine
sku: rom-qim-r02-bk
See Terms & Privacy for 30 day returns information.