Powertrain Magnetic Flywheel Rowing Machine - Black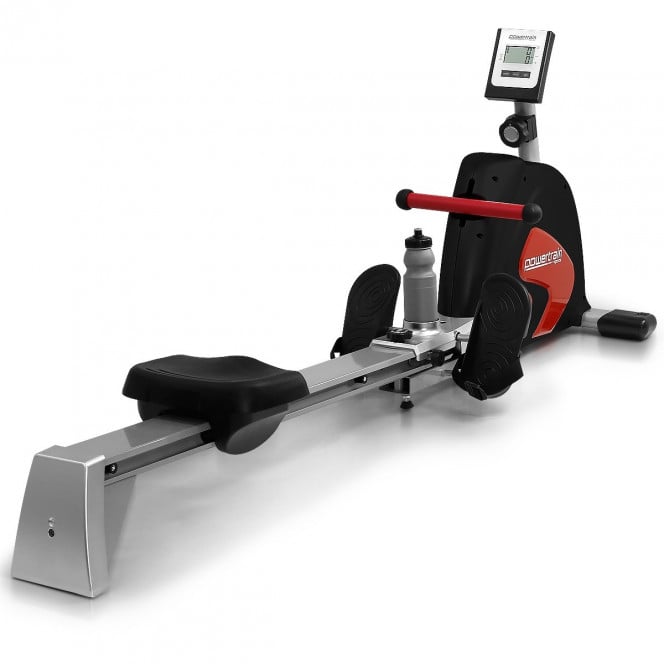 Supercharge your home gym with a commercial-quality rowing machine from Powertrain!
Built for comfort and ease of use, this rower gives you a low-impact, high-intensity workout that will tone your entire body.
The contoured high-density seat rides on 4 quiet rollers, giving you a professional gym experience so you can be assured of a great workout. The rowing machine's handle is also covered in comfortable foam, so slippery hands won't be a problem.
What makes this PowerTrain rowing machine unique is that you can pull the cable from above and not just towards the front. This allows you to use the unit for standing arm exercises such as bicep curls. You can also turn the resistance up for a more challenging arm workout.
The foot pads with adjustable straps also make using this rower a breeze - no chance your feet will fall out when they are strapped in nice and snug.
Exercising on a rowing machine causes your upper and lower body to work in unison, leading to multiple muscles being activated. It gives you a full cardiovascular workout so you can burn a lot of calories, boost your fitness, and strengthen your muscles at the same time.
This rowing machine is packed with features that let you have complete control over your workout. With its easy to read LCD screen and built-in computer, you can set your workout based on a variety of different goals, whether it's time, strokes, or calories burned.
And did we mention that the rower comes with a free water bottle?
Don't put off getting in shape any longer. Start your fitness journey with a Powertrain flywheel rowing machine today!
Features:
Genuine magnetic flywheel
Variable resistance
Commercial glide rail
Molded seat
Specifications:
Brand:

Powertrain

Size:

200 x 61cm

Max Weight Cap:

150kg

Unit Weight:

35kg
Contents:
1 x Magnetic flywheel rower
1 x Instructions Manual
sku: rom-qim-r23-bk
See Terms & Privacy for 30 day returns information.