Powertrain Eco-Friendly TPE Pilates Exercise Yoga Mat 8mm - Red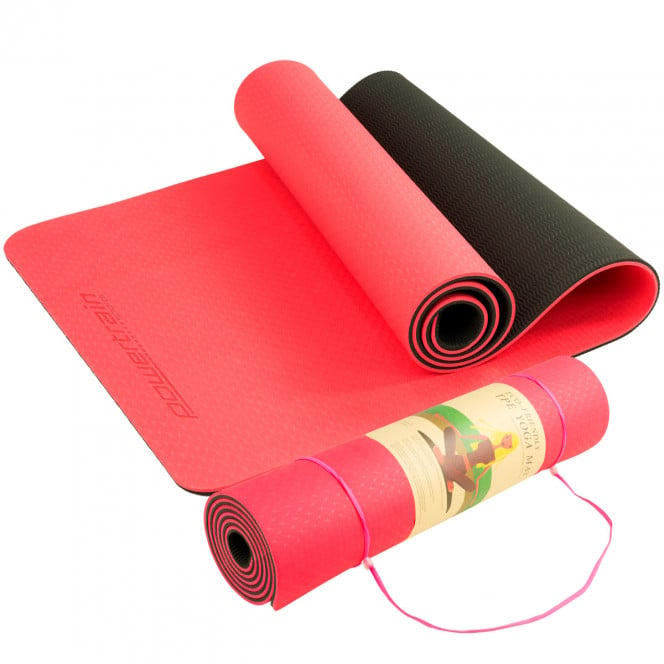 This pilates and yoga mat is made from non-toxic and biodegradable TPE (thermoplastic elastomer) foam. It's free from PVC and latex, making it more environmentally friendly compared to most exercise mats on the market.
It's lightweight and easy to carry, making it perfect for yogis and athletes who practise both at home and in the gym or studio. Each mat comes with a free matching carry strap that's easy to attach and remove, so you can work out straight away.
The ribbed base ensures this yoga mat won't skid or slide around during workouts. This mat also provides excellent grip, so you can safely practise push-ups, downward dogs, and more without worry of slipping.
Its 8mm thickness will cushion your knees, wrists, and elbows while providing stable support during standing and balance postures. And with its highly durable construction, this yoga mat is not just better for you, it's better for the planet, too!
Features:
100% Latex-free and PVC-free
Gentle cushioning for knees and other joints
Non-slip surface
Easy to clean
Includes carry strap
Specifications:
Material:

TPE

Size:

183cm (L) x 61cm (W)

Type:

Yoga Mat

Colour:

Red

Thickness:

8mm
Contents:
1 x TPE Exercise Mat
1 x Carry Strap
sku: ym-tpe-dhg-rd
See Terms & Privacy for 30 day returns information.