Powertrain Yoga Stability Disc Home Gym Pilates Balance Trainer - Grey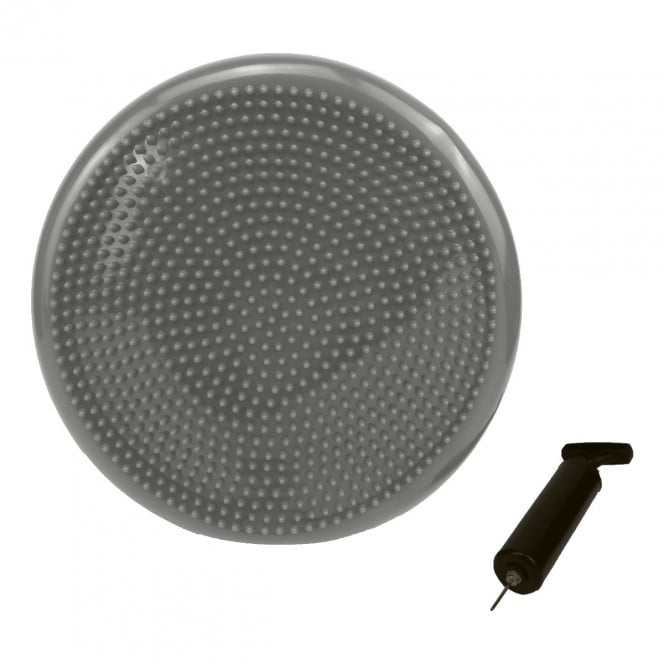 Add challenge to your daily workouts with the Powertrain stability disc. It provides an unstable surface that works your core and leg muscles, enhancing your abdominal strength over time.
This stability disc is inflatable and made of anti-burst PVC. It can be used anywhere and any time you want to intensify your workouts, whether it's yoga, pilates, or ab exercises. Using this cushion helps strengthen your deep core muscles as the body constantly adjusts to maintain its balance.
You can also use this stability disc as a lumbar support cushion. Reap the core strengthening and posture benefits by sitting on it or keeping it behind your back as you work throughout the day. You can also choose between the two textured sides, which prevent the disc from slipping while also giving you the sensation of a massage.
The stability disc is lightweight and travel-friendly, so you can bring it with you to the office, park, or gym. A free hand pump is included with each disc for easy inflation and deflation.
Features:
Inflatable Balance Board Disc
Size - 34.5cm
Material - Explosion-proof PVC
Add challenge to classic workouts
Textured surface to prevent slipping
Contents:
1 x Hand Pump
1 x Yoga Disc
sku: yga-dsc-gy
See Terms & Privacy for 30 day returns information.