Powertrain Yoga Stability Disc Home Gym Pilates Balance Trainer - Black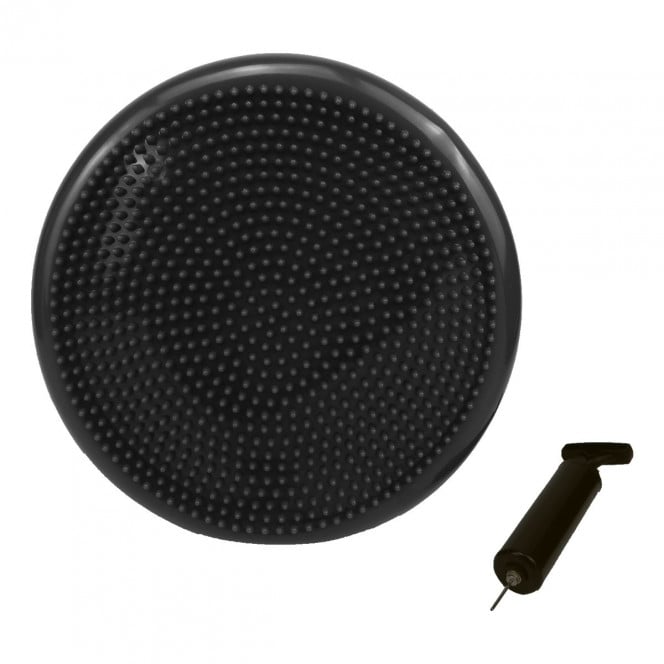 With Powertrain's stability disc, you can reap all the benefits of a strong core! This inflatable stability disc provides an unstable surface so you can challenge your abs, glutes, legs, and other muscles.
Using this disc helps strengthen your deep core muscles, which work to stabilize your body and keep you balanced. It's the perfect companion for yoga, pilates, stretching, and abdominal exercises, plus you can use it to protect your joints during high-pressure poses.
You can also use this stability disc to improve your sitting posture. Place it behind your back as a lumbar support cushion, or sit on it while working to keep your back straight and your core engaged. Work out your abs simply by sitting!
One side of this 34.5cm disc is densely dotted while the other side has fewer bumps to provide a gentler sensation. It also keeps the disc from sliding around.
The stability disc is portable and lightweight, so you can easily carry it to and from the gym or park. You can also adjust the cushion's firmness with the included air pump.
Features:
Inflatable Balance Board Disc
Size - 34.5cm
Material - Explosion-proof PVC
Add challenge to classic workouts
Textured surface to prevent slipping
Contents:
1 x Hand Pump
1 x Yoga Disc
sku: yga-dsc-bk
See Terms & Privacy for 30 day returns information.