Powertrain V25 Electric Treadmill with 12 Programs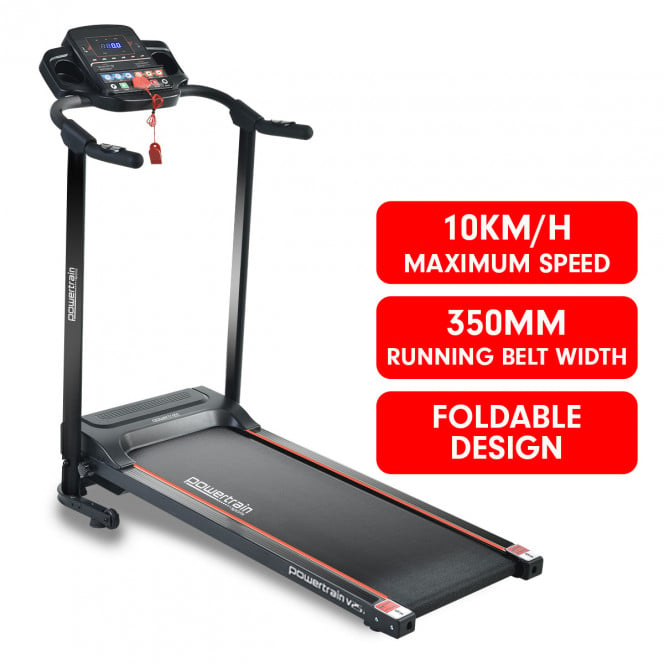 The Powertrain V25 Treadmill
Bring sleek functionality to your home gym with the Powertrain V25. This affordable treadmill has everything you'd want in a cardio machine plus a foldable design perfect for indoor workouts.
This treadmill offers multiple speed settings, allowing you to walk comfortably one day and challenge yourself the next. The anti-slip running belt ensures a safe experience for all users. Keep your drinks, towels or devices nearby with the built-in beverage holders, which are located right next to the console for quicker access. You can also play your own music through the USB or MP3 inputs for a more immersive workout.
The console is clear and easy to use, with dedicated buttons for speed and media controls. This home treadmill also comes with 3 modes and 12 pre-set workout programs to suit your fitness ability and goals. Time, speed, distance, pulse, and calories burned are all displayed on the LED screen so you can track your progress as you run.
Finally, the V25 treadmill is compact and easy to fold, making it a great choice if you need to reclaim floor space after each workout. When you're done, simply fold and store the treadmill for your next cardio session.
With its great design and entertainment features, you can't miss out on the Powertrain V25 treadmill. Place an order today and level up your home gym!
Treadmill Features:
Horsepower: 1.0 hp
Speed range: 1.0-10.0km/h
Blue L.E.D Screen Display - Time, Speed, Distance, Calories and Pulse
12 programs, 3 modes with MP3, USB input
Running area: 350mm x 1000mm
Max user weight: 90kgs
Foldable by knob
Space saving design
Soft grip handles
Easy to assemble
Size - 1255 x 590 x 1170mm (approx.)
Treadmill Contents:
sku: tml-ljj-v25
See Terms & Privacy for 30 day returns information.